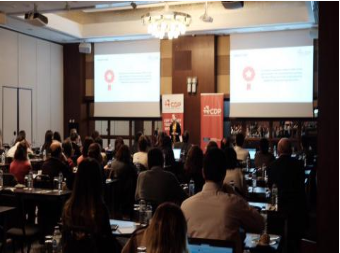 Submitted by temelzeynep on April 19, 2019
CDP Turkey 2019 Training has been held on April 18, 2019 at Mövenpick Hotel Istanbul. The training, designed and organized in order to respond to any questions the companies reporting to CDP in 2019 may have, hosted representatives of companies already reporting to CDP and those of companies that will report to CDP for the first time this year. This training has also been a pioneer in the sense that it was the first in Turkey that had such an elaborate session dedicated to Science-Based Targets.
The training has started with the presentation of Faye Bennett-Hart, Associate Director of Technical Reporting of CDP; she offered an introduction to CDP and mentioned the potential benefits of reporting to CDP for companies. She has also given some examples of Turkish companies while explaining how to effectively respond to the risks that climate change and water-related issues bring. She has offered an elaborate overview of the Climate Change and Water Questionnaires, too. In her second session Ms.Bennett-Hart has explained the changes in the scoring methodology and how they are communicated so that companies understand what they may want to pay greater attention to while reporting. After this informative presentation of Ms.Bennett-Hart, Arnaud Lanfranconi, Consultant Manager from EcoAct (which is CDP's accredited solution provider) has presented on Setting Science-Based Targets. He has explained the benefits of acting on and contributing to a low-carbon economy on the societal as well as private sector levels, and added that it was essential that the private sector be integrated in the process. He has also elaborated on the benefits of designing a carbon neutrality strategy for the business world; which are building confidence with the investors, increasing brand reputation and innovation, and facilitating adapting to new policies. After this informative presentation of Mr.Lanfranconi, Tuba Seyyah, Head of Division of the Ministry of Environment Climate Change Department has done the Policy Session. In this session Ms.Seyyah has elaborated on the details of the Partnership for Market Readiness Turkey Program (PMR) and added that one of the most economical carbon lowering initiative would be carbon pricing.
---
Faye Bennett-Hart's presentation. 
Arnaud Lanfranconi's presentation.