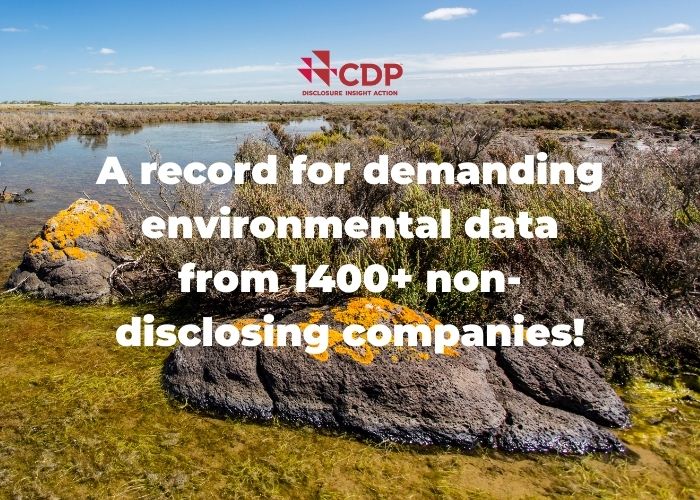 Submitted by selincene on July 7, 2022
263 financial institutions with over US$31 trillion in assets join CDP's 2022 campaign calling on the world's highest impact companies to disclose environmental data;

Tesla Inc, Saudi Aramco, Exxon Mobil Corporation, Glencore, Roche Holding AG, Swatch Group, Volvo Group among 1,473 companies from 50 countries targeted as part of the campaign;

This year's campaign attracted record levels of participation, with a 57% annual increase in the number of financial institutions requesting corporate environmental disclosure;

The number of companies asked to disclose to the CDP water and forest questionnaires rose by 51% and 37% respectively compared to 2021;

The 2021 campaign demonstrated that companies are more than twice as likely to disclose their environmental impact when directly engaged.
London; June 29, 2022: 263 financial institutions from nearly 29 countries, including Amundi, Aviva, Cathay Financial Holdings, Insight Investment, La Banque Postale, Legal and General, Nuveen, Schroders, Société Générale Private Wealth Management and Union Investment are urging non-disclosing companies with a high environmental impact to disclose data through CDP, the non-profit that runs the world's largest environmental disclosure system.
The companies targeted, including Tesla, Exxon Mobil, Saudi Aramco and Glencore, cover over US$24 trillion (as of 22 June 2022) in global market capitalization and are estimated to collectively emit more than 4,800 megatonnes (Mt) of carbon dioxide equivalent (CO2e) annually.
The majority (72%) of companies selected in this year's campaign were requested to disclose on at least their impact on climate change. However, there was a significant uplift in the number of companies engaged on their water and forests related impact, with a 51% and 36% uplift in the number of companies engaged compared to last year. This demonstrates an increasing awareness of the interrelatedness of the climate and nature crisis and a growing call from the capital markets for corporate transparency on water and forest related issues.
A quarter (25%) of the companies selected by investors in this year's campaign already disclose through CDP on one theme; either climate change, forests or water security. They are included in the campaign because they do not yet disclose data on another theme, which has been identified as material for them.
General Electric Company and Geox are among the list of companies that were targeted in this campaign only to disclose their water-related data. Similarly, Toyota Motor Corporation and Gruppo Mastrotto Spa were targeted to only to disclose on their forest-related data.
The direct engagement is coordinated by CDP's 2022 Non-Disclosure Campaign (NDC), which aims to increase disclosure among companies that have either never disclosed, or stopped disclosing, through CDP.
The campaign has seen an average 38% year-on-year growth in participation from financial institutions, since inception in 2017, with a 57% uplift compared to last year. This reflects the broader momentum of net-zero target setting and alliances, including the Glasgow Financial Alliance for Net Zero (GFANZ), which requires signatories to set science-based targets to reach net-zero no later than 2050.
In order to meet these commitments, investors and financial institutions require environmental disclosure from the companies in their portfolios so that they can understand and manage their financed environmental impact.
Last year's Non-Disclosure Campaign resulted in the highest response rate to date, with nearly 60% more companies disclosing, after being targeted, compared to 2020. It also showed that companies are more than twice as likely to disclose through CDP when they are directly engaged by investors to do so.
Financial institutions will be engaging with companies over the summer while CDP's disclosure system is open. Companies will be asked to submit their response to investors via the CDP online response system.