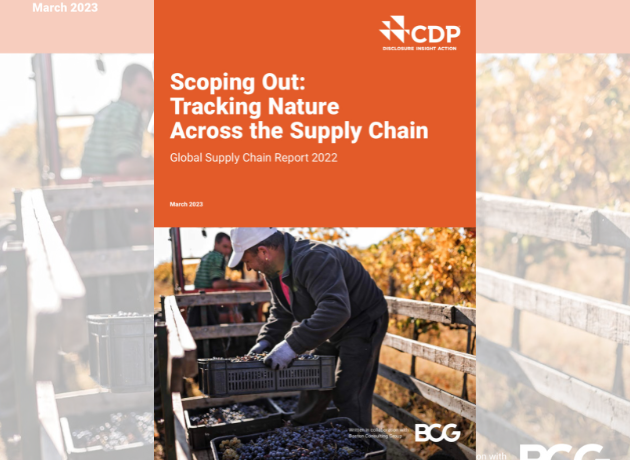 Submitted by isil.oral on March 23, 2023
Less than half (41%) of companies disclosing to CDP are reporting on any of their supply chain emissions despite their impact significantly outsizing (11.4x) direct emissions
Companies are not treating their impact on the environment as a whole, with most not engaging suppliers on climate and vital parts of nature, including water security, deforestation and biodiversity
COP15 agreement urged countries to encourage and enable all large companies and financial institutions to take measures by 2030 on their risks, dependencies and impacts on biodiversity in their operations, supply and value chains and portfolios
Nearly 70% of companies reported they do not assess the impact of their value chain on biodiversity despite fast approaching mandatory regulations on nature
In 2022, companies' suppliers reported saving 70mt CO2 due specifically to CDP supply chain member engagement
New data shows that companies are falling behind on tracking supply chain emissions and risk missing completely mandatory regulation on nature in supply chains. With wide-ranging rules likely to be enforced this decade, companies are being urged to engage their suppliers now on nature and climate in order to be ready in time.
CDP's 2022 supply chain report, Scoping out: Tracking nature across the supply chain shows that leadership in disclosure on environmental impacts is not happening at the scale and scope required, with only 41% of companies reporting on any of their supply chain emissions.
Nearly 70% of companies reported to CDP that they did not assess the impact of their value chain on biodiversity in 2022, despite the landmark agreement made at COP15 urging countries to encourage and enable large companies and financial institutions to assess and disclose their risks, impacts and dependencies on biodiversity by 2030. Indeed, disclosure on Scope 3 emissions may be required imminently in the EU (the European Sustainability Reporting Standards which covers both climate and nature), the United States (under the Securities Exchange Commission regulation) and in the International Sustainability Standards Board (ISSB) global baseline standard for climate-related financial disclosure.
Most companies have yet to acknowledge that they must tackle their impacts on climate change and nature in the supply chain together, with the report showing that most companies are prioritizing climate disclosure. Across the 18500+ companies disclosing to CDP in 2022, over 7000 companies reported that they engaged their suppliers on climate change compared to 915 on Water and just over 500 on Forests. However, the rate of engaging supply chains is much higher in companies disclosing on deforestation, with 69% engaging with suppliers on the issue, compared to the 39% of companies who disclosed on climate change engaging their suppliers on climate and 23% on water.
A small, but growing number of companies are taking the lead by building nature into business as usual. CDP works with over 280 sustainability leaders via its Supply Chain program, representing $6.4 trillion in procurement spend. Their engagement year on year drives action. For instance, 26% of first-time respondents to CDP report setting climate targets, while 57% of repeat respondents do so, highlighting how annual disclosure drives target setting, and in 2022, companies' suppliers reported saving 70mt CO2 – equivalent to powering over 8.5 million homes for a year – due specifically to CDP supply chain member engagement.
One in every 10 companies include climate-related requirements in their contracts with suppliers, and this is also happening to some extent with deforestation. However, most of these requirements are not yet aligned with 1.5°C climate science, with under 1% (0.04%) of all companies requiring their suppliers to set Science-Based Targets.
CDP data shows senior management teams are not being incentivized at anywhere near the level needed to address key issues such as water security and deforestation in the supply chain. Seventy percent of companies' top management positions will not be incentivized to act on deforestation before 2025, while only 3% of companies have water-related incentivization in place for their Chief Procurement Officer. For climate, the picture is more positive with 74% of companies reporting board-level oversight on climate change, and 41% of the remaining companies planning to introduce it in the next two years. This is starting to filter down to the buyers, but the report finds that it is very early days.
With this new supply chain report, CDP also announced Supplier Engagement Ratings (SER). A record-breaking number of Turkish companies received A score and became global leaders in this scope. These companies are the followings: Abdi İbrahim İlaç Sanayi ve Ticaret A.Ş., Arçelik A.Ş., BRİSA Bridgestone Sabancı Lastik Sanayi ve Ticaret A.Ş., Coca-Cola İçeçcek A.Ş., Çemtaş Çelik Makina Sanayi ve Ticaret A.Ş., Çimsa Çimento Sanayi ve Ticaret A.Ş., Ekoten Tekstil Sanayi ve Ticaret A.Ş., Eti Soda A.Ş., Ford Otomativ Sanayi A.Ş., Kazan Soda Elektrik Üretim A.Ş., Mavi Giyim Sanayi ve Ticaret A.Ş., Migros Ticaret A.Ş., Osmangazi Elektrik Dağıtım A.Ş., Turkcell İletişim Hizmetleri A.Ş., Vestel Beyaz Eşya Sanayi ve Ticaret A.Ş., Yapı ve Kredi Bankası A.Ş. ve Zorlu Enerji Elektrik Üretim A.Ş.
Please click here to access the full report.