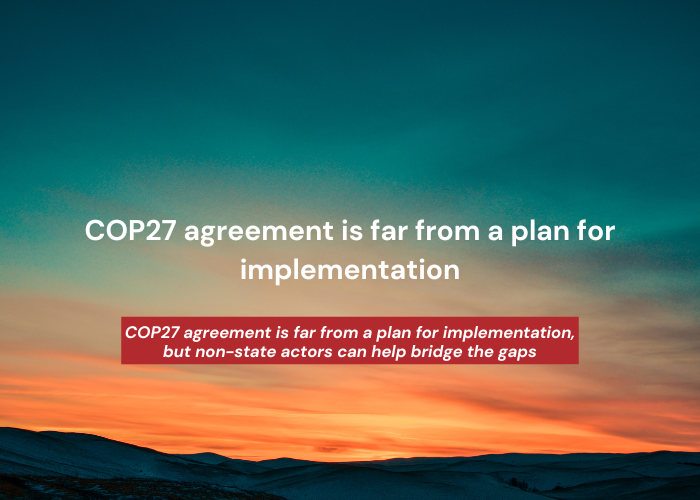 Submitted by selincene on December 21, 2022
COP27 was touted as the 'implementation' COP – one that finally went from commitment to action, in order to accelerate the transition to a net-zero future. Hopes were high for securing finance, long-awaited global agreement on the future of fossil fuels and tangible targets for transitioning away from them. It was also hoped that as the self-proclaimed 'African COP', focus on water and adaptation and vicinity to COP 15 would mean clearer attention on the strong links between climate and other environmental issues would be underlined. Here are CDP's key takeaways:
The seminal role of non-state actors
Though dubbed the 'Sharm El-Sheikh Implementation Plan', the final agreement reached at COP27 is far from a coherent plan for any kind of implementation. In the context of a fractured agreement, non-state actors - key implementers of the Paris Agreement – have potential to fill in some of the cracks. Without corporate action and the allocation of financial flows there is no solution to the climate crisis.
We can take some comfort in significant developments that have been led by the market, well ahead of global political consensus. Significant parts of the private sector are showing that they are committed to driving forward their net-zero commitments with the urgency required. It's not just what happens in the negotiating rooms at COP27 that can have impact. There were many significant announcements during COP that will drive more and better corporate action and impact the global economy.
A boost for disclosure and tracking progress
Ahead of COP27, we outlined why accountability is paramount. With over 90% of global emissions are now covered by climate targets, it is more important than ever to ensure that there are mechanisms in place to ensure that action is being taken to achieve progress. Legislation around disclosure is already gaining momentum, with the key jurisdictions, including the EU and US advancing significantly up on their legislative journey this year. There were several major announcements that are going to boost corporate accountability and help us actually hold those not taking action, to account. Some will no longer be able to avoid it:
CDP announced that we will incorporate the ISSB climate disclosure standard into our disclosure platform. This means that the long-awaited global baseline standard will be rapidly scaled across the global economy, reaching the nearly 20,000 companies who disclose through CDP.
The Net Zero Data Public Utility is under development and CDP is providing a foundational layer of data. The NZDPU will boost transparency and accountability: soon, every person, stakeholder and government will be able to freely view core climate data from companies and use that to inform decision making at all levels. Laggards had better get prepared or watch out.
The Biden Administration announced that major White House suppliers will now be required to disclose their environmental impacts through CDP and set science-based emissions reduction targets. This is massive: the US Government is the largest purchasing organization in the world, making this one of the most significant supply chain rules in history. We expect to see this inspire others to follow suit
Developments in transparency and non-state actor representation
In the Paris Agreement, the Global Stocktake and Enhanced Transparency Framework are key mechanisms in tracking progress and increasing ambition. At a national level, as Parties move towards the implementation of the Enhanced Transparency Framework, non-state actors have a key role in transparency, both to demonstrate progress towards their commitments, and to showcase to governments the action taken to catalyse further ambition. At COP27, CDP launched our Government Dashboard to help governments assess the progress of companies, cities, and regions disclosing to CDP, understanding country-level ambition and identifying areas for specific policy intervention.
The Global Stocktake (GST) is a key mechanism in tracking progress and increasing ambition – as CDP has long said, it is critical that the actions of non-state actors are effectively captured in the stocktaking process. The Technical Dialogues at COP27 continued to have good representation of non-state actors, and we welcome the additional workshops to be held in preparation for the outcome component of the GST. The process must continue to be purpose-driven, inclusive and evidence-based to ensure a positive outcome at COP28 that succeeds in increasing ambition.
The UN's plan for accountability: no space for greenwashing
The Implementation Plan recognised the importance of the private sector and non-state actors – from dedicating a full section to non-state actors' collaboration in general, to recognising the importance of the High-Level Expert Group on the Net-Zero Emissions Commitments of Non-State Entities (HLEG). Their action is at the heart of the Paris Agreement. We welcome the political recognition that financial sector reform is needed. Of course, investors and companies have a critical role to play too in ensuring finance flows towards sustainable activities rather than the status quo.
While the final COP27 agreement lacked much in terms of targets, companies have known for some time that they need to halve their emissions by 2030 and reach net-zero by 2050. The COP27 agreement noted the importance of private sector accountability for net-zero pledges and delivery. This followed the launch of new net-zero guidelines for companies and other non-state actors from HLEG which should significantly increase scrutiny on 'greenwashing' in the private sector. These guidelines build on the momentum of key global campaigns, including the UN's Race to Zero.
Announcing the new 'red lines' for net-zero strategies, UN Secretary-General Antonio Guterres pronounced there would be "zero tolerance for net-zero greenwashing".
Nature remains prominent
The recognition of the interconnection between the different environmental crises in the final agreement is welcome, particularly the increased focus on water and freshwater systems, which was entirely lacking from last year's Glasgow Climate Pact. Nature has rightly been recognised as part of the solution to the climate crisis. As the IPCC has made clear: there is no route to 1.5C without nature. It is sure that the eyes of the world will now turn sharply toward COP15 in Montreal.
Forests received for the first time an own section in the final agreement, including the explicit encouragement of Parties to consider NBS for mitigation and adaptation actions. However, despite already 145 endorsements of the Glasgow Leaders' Declaration on Forests and Land Use covering 90% of the world's forests, COP27 fails to reference the target to halt and reverse forest loss and degradation by 2030 needed to achieve the 1.5°C objective. While the pledges around forestry did have a target, it is a shame to see a target on freshwater not included in the final text.
The need to protect, conserve and restore water systems is an important basis to secure increased ambition to solve the crisis. Water achieved increased recognition at COP27 and its role as a connector to climate action is now clear. The final agreement references "the critical role" water systems play in delivering climate adaptation benefits but does not mention mitigation benefits. It has been shown that water is much more important than previously believed to mitigate climate change and reduce greenhouse gas emissions.
Progress on global climate finance
Outside finance for loss and damage, progress on global climate finance also failed to enhance results, though an historic attempt to redefine the structural barriers was made. Governments agreed to explore reforms to multilateral development banks and other financial institutions to help stimulate more investment in low carbon and climate-resilient infrastructure. This is a welcome recognition that the global economy needs to adapt to the climate change already baked in: we must make the financial system fit for an era of climate shocks.
One such transformative suggestion is The Bridgetown Initiative, proposed by Barbadian Prime Minister Mia Mottley: a foundational, innovative proposal that has the potential to deliver the resources and structures needed to overhaul the global financial system. It aims to reform multilateral development banks (MDBs) and international financial institution's (IFIs) financial allocations so that more goes to countries struggling with debt levels made worse by climate disasters, addressing the high levels of debt while dealing with other development challenges, and measures that build resilience against climate threats.
But what about the money?
However, there was little new money on the table: disappointing for what was meant to be an implementation COP. Similarly, COP27 was initially pegged as a 'resilience' COP, to tackle the critical issue of adaptation. Countries "noted with serious concern" the gap between current levels of adaptation finance and what is needed to respond to climate impacts. They "urged" countries to "urgently and significantly scale up their provision of climate finance". Yet, the only mention of a pledge by rich countries to double adaptation funding to $40bn by 2025 was in reference to preparing a report.
A failure on fossil fuels and energy transition
Devastatingly, this historic success on loss and damage was paired with backsliding on actions in line with the commitments to keep within a 1.5°C temperature rise.
Prior to CoP27 the world was revealed to be on track for a 7% rise in emissions by 2030, instead of the 43% cut required for a 1.5°C future. The final COP27 agreement did not address this, and pledges throughout did not change this.There is no substitute for rapid emissions reductions: adaptation will only get harder, if not impossible, if emissions continue at their current rate.
The best outcome at any COP, and the assumption at the heart of the Paris 'ratcheting mechanism' is that the previous year's agreement becomes a baseline for increased ambition and action. Yet, world leaders left COP having watered down any action on the previous year by expanding references to 'low emission' energy sources.
There must be consensus on what will be an acceptable energy source in the transition to a 1.5°C future and ensuring there are no loopholes that can be jumped through to continue a reliance on fossil fuels. No mention of a phasing out, or down, of fossil fuels outside of coal in the final agreement is reckless, dangerous and at odds with science. Increasing the supply and use of gas and oil, already happening across Europe in 'response' to the ongoing energy crisis, is not viable as it will mean we fail to meet global climate goals, tragically reinforcing the chances of recurring conflict and the cycle that creates. There can be no new investments in oil and gas or there can be no limiting global warming to 1.5C.