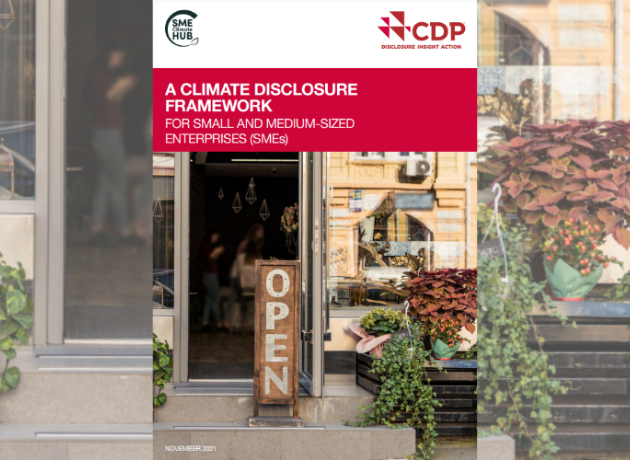 Submitted by selincene on February 18, 2023
A significant proportion of the world's businesses are small and medium-sized enterprises (SMEs). Globally, micro-enterprises (SMEs with fewer than ten employees) account for 70% to 90% of all firms. As such, SMEs play an important role in reducing global emissions and bringing innovative climate solutions to the market. It is crucial that they are equipped with the tools and resources needed to measure their emissions, set greenhouse gas reduction targets grounded in science, take bold actions, report on their progress, and ultimately reduce their emissions. This framework provides guidelines for SMEs on doing exactly that. It is open for anyone to use and can be used directly by SMEs to guide their reporting of climate impacts and strategies to multiple stakeholders. It can also be used by SME support organizations (such as consultancies) and data collectors to guide SMEs in climate disclosure.
In order to achieve the purpose of stimulating SMEs' understanding and reporting of the most vital climate-related indicators and encouraging immediate climate action, this framework aims to be:
Modular, to enable flexibility to expand into other areas of environmental disclosure;

Understandable, through the use of straightforward language

Open access and available for all;

Streamlined and resource-efficient to represent the minimum reporting requirements;

Representative of best practice through alignment with other reporting frameworks.
This framework consists of three main modules (Measure, Commit, and Action & Impact) and four additional modules (Energy Reporting, Value Chain Emissions, Management & Resilience, and Climate Solutions) for SMEs. Each module recommends or requires certain indicators and metrics from SMEs that are considered to be important, factoring in the requirements of data users and the needs of the SMEs. 
Due to the heterogeneity of SMEs, it is acknowledged that not all indicators are relevant for all SMEs. This framework is influenced by key standards and frameworks and as time pass, it will also evolve just like the other disclosure standards evolve. 
To reach out to the whole guidance framework: https://bit.ly/3J4wqXp