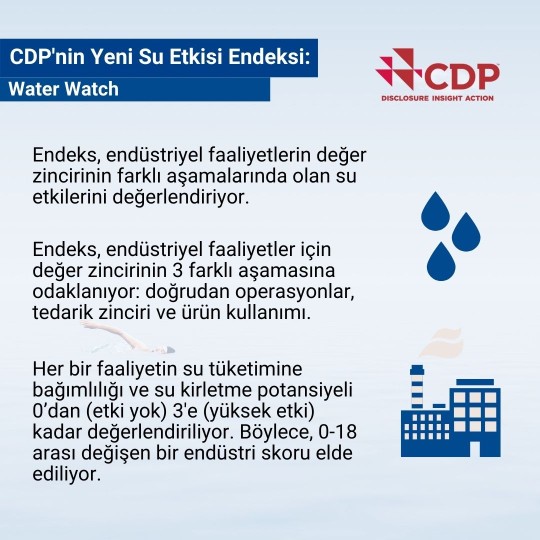 Submitted by hazal.bastimur on August 26, 2021
Water Watch: CDP's Water Impact Index developed by environmental disclosure platform CDP, reveals the world's most polluting and water-intensive industries.
First-of-its-kind tool ranks over 200 industrial activities according to their potential impact on water quality and quantity;
Apparel, financial services and fossil fuels found to have greatest impact;
Exxon Mobil and Chevron Corporation among companies with 'critical' levels of impact that have failed to disclose water-related data to CDP for over a decade;
Investors and lenders can use tool to assess the potential impact of their portfolios on water resources and water security.
How does Water Watch work?
Grounded in independent and trusted academic, scientific and industry-recognized sources, the tool assesses the water impact of each industrial activity at different stages of the value chain. The apparel and textile manufacturing sector, cotton farming, livestock farming, oil and gas extraction and mining are amongst the sectors found to have the largest potential impact on water resources.
The tool makes a qualitative assessment of impact on freshwater resources at different stages of the value chain, based on independent and trusted academic, scientific and industry-recognized sources. Its focus on environmental impact distinguishes it from tools that measure business risks posed by water. However, there is an interplay between environmental impact and business risk: a company that undertakes an industrial activity that has a high impact on the water environment tends to be exposed to greater risk.CDP has over 200 industrial activities within its classification system, these are based on the Bloomberg Industry Classification Systems (BICS).
For each activity, the tool ranks for the three key stages of the value chain: direct operations, supply chain and product use. At each stage, it ranks for two things: (1) the dependence of the activity on high volumes of freshwater withdrawal or consumption; (2) the water pollution or degradation potential of the activity. This gives six impact rankings for each industrial activity, ranging from 0 "no impact") to 3 ("high impact"). These are then summed into an overall impact rank for the industrial activity between 0 and 18.
This is the first tool of its kind that allows financial institutions to understand the relative impact of different industrial activities on the world's water resources. In doing so, the tool fills a critical data gap in the efforts of financial institutions to understand and address their exposure to water risk. Through this tool, CDP hopes to provide the capital markets with the information needed to take action on water security.
Please click here for more information about the index.