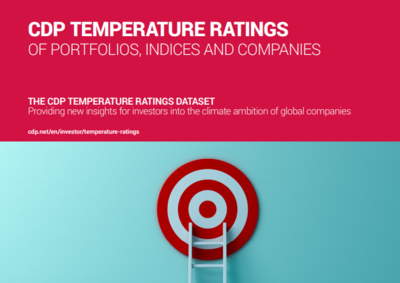 Submitted by firuze.alpaydin on July 16, 2020
The science is clear that we need a net-zero emissions economy no later than 2050 to avoid the worst effects of climate change. Companies must rapidly decarbonize to achieve this. Investors must scale investments which support the transition, and work to align their portfolios with maximum of 1.5 °C of warming.
To help investors to benchmark, communicate and reduce the temperature of their portfolios and products, CDP's temperature ratings dataset provides a temperature pathway for over 4,000 global companies, based on emission reduction targets covering all relevant emissions in a company's value chain.
CDP Temperature Ratings draw on CDP's disclosure system and expert Data Analytics team for its ratings. CDP holds the world's largest and most detailed corporate environmental dataset, which contains uniquely detailed information on company targets and GHG data. It uses a public, expert-reviewed and open-source protocol currently being developed by CDP and WWF for interpreting corporate emission targets under key climate scenarios. This protocol translates individual targets of varied formats into consistent and comparable temperature ratings.
CDP temperature ratings systematically assess companies' entire emissions, producing separate °C temperatures for operational (scope 1 and 2) and complete value chain (scope 1, 2 and 3) emissions, including across short, medium, and long-term timeframes.
Companies without relevant public targets, or without targets covering all emissions scopes (such as scope 3), are assigned a default temperature rating.
Benefits of CDP temperature ratings:
Transparent - Uses a public, expert-reviewed and open-source target assessment methodology being developed by CDP and WWF and used by the Science Based Targets Initiative (SBTi).
Forward-looking - Based on forward-looking corporate ambition defined by targets, rather than historical GHG emission trends or current performance metrics.
Science-based - Temperature pathways derived from the IPCC 1.5C and the Integrated Assessment Modeling Consortium (IAMC) compiled database of climate scenarios.
Includes Scope 3 - Systematically assesses corporate targets along the entire value chain, including a company's scope 3 emissions when relevant.
High level of detail - Shows separate temperature ratings per scope and for three distinct timeframes.
Powered by CDP data - Uses CDP's unique GHG emissions and granular targets data disclosed by companies and cleaned by CDP's dedicated Data Analytics division.
Standard-setting - Can be used by financial institutions for portfolio analysis and target setting, in addition to corporate supply chain analysis.
Please click here to download CDP-WWF methodology.
Please click here to read CDP Temperature Ratings brochure.