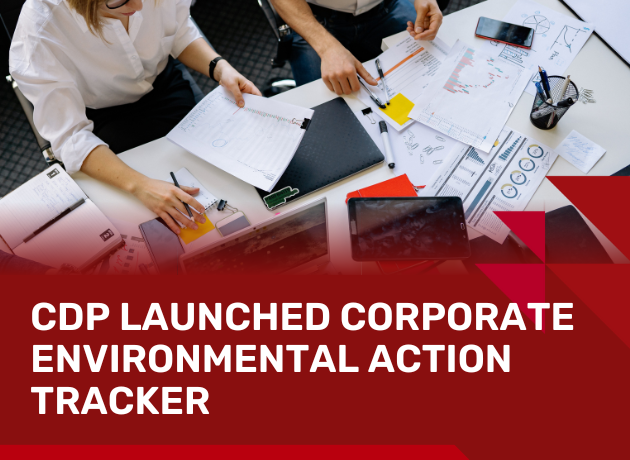 Submitted by elifsena.yaman on July 27, 2023
The CDP Corporate Environmental Action Tracker (CEAT), launched in 2023, is an integral part of CDP's broader objective to enhance the accessibility and public availability of its data. This tool plays a crucial role in transforming the global economy by providing up-to-date data that is user-friendly and accessible to all.
CEAT is a unique interactive tool that aggregates CDP data, offering companies, capital markets, and civil society access to a comprehensive environmental data set. Users can delve into the data to make informed decisions and gain insights into corporate progress since 2019 regarding disclosed commitments through CDP. The tracker also provides an understanding of the potential impact of meeting or missing those targets.
Focusing on climate action by companies disclosing through CDP, the tracker breaks down the transition journey into six steps, spanning from disclosure to target impact. It employs a series of indicators to measure progress, providing views at the global, country/area, financial index, and sector levels. Drawing data from nearly 10,000 companies, which account for 16% of global emissions, the tracker is built on the world's largest corporate environmental data set. CEAT prioritizes reliable and ready-to-use data by aggregating Scope 1 data from a subset (about 50%) of the full CDP data set, ensuring that only companies with sufficient and credible emissions data are included.
The results are presented by reporting year, which refers to the calendar year preceding the questionnaire/disclosure year on which the analysis is based. For instance, data shown as reporting year 2021 are derived from questionnaire responses from the 2022 disclosure cycle.
While climate change represents a significant environmental challenge, CEAT acknowledges that it is only one aspect of the interconnected environmental issues we face. The tracker does not claim to provide a magic solution to address the climate crises, but rather acts as a lens through which we can seek answers. CEAT facilitates the transition from problem identification to the use of credible data in responsible and responsive ways. In future iterations, the tracker will integrate CDP's environmental data, allowing stakeholders to adopt a holistic approach to tackle the climate and nature crises.