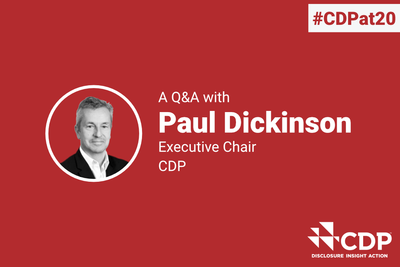 Submitted by firuze.alpaydin on August 19, 2020
Paul Dickinson co-founded CDP in 2000 with an ambition of creating a global economic system that operates within sustainable environmental boundaries and prevents dangerous climate change. Paul served as CEO of CDP from 2001 to 2010, when he took on his current role of Executive Chair. As we approach CDP's 20th anniversary, we asked Paul for his insights on the organisation's past, present and future.
How would you summarize CDP's 20 years of impact?
I think we can justifiably claim to have created an enormous wave of corporate and city greenhouse gas accounting and reporting, normalised the measurement and management of corporate impacts on water security, and have implemented a vast global program tracking the purchase of commodities that drive deforestation.
We have supported the very successful ask Force on Climate-related Financial Disclosures (TCFD) process and implemented it across our system, with over 8,000 companies participating. We are deeply embedded in the world's largest economies from Tokyo to São Paulo, and from New York to Johannesburg, and our data is purchased by Bloomberg, MSCI and S&P alongside numerous others, forming the bedrock of the Environmental, Social, and Corporate Governance (ESG) revolution that is changing the world, at tremendous speed.
With CDP's 20th anniversary falling during the COVID-19 crisis, what do you think is the importance of CDP's work as we start to recover?
Everyone is now talking about a green recovery, and the CDP disclosure system has laid the foundations to execute this. We have helped our stakeholders plan for a low carbon future, and now we need to deliver it. CDP is all about managing global risk, and COVID-19 has shown that our societies are making massive, unprecedented responses. Climate change will have an enormous impact on humanity, and I hope the current crisis will teach us to understand the reality of risk and invest more resource into protecting ourselves.
What are your hopes for the next 20 years of CDP?
I am very proud, and we should all be very proud of what we have achieved, but the world is a big place, and we have only just begun. The next 20 years are going to be even more interesting. I hope and believe corporations, investors, cities, states and regions will be mobilized to action by the CDP system over the next 20 years, and make the changes required to avoid the devastating impacts of environmental damage.
Please click here to read the full version of the Q&A.