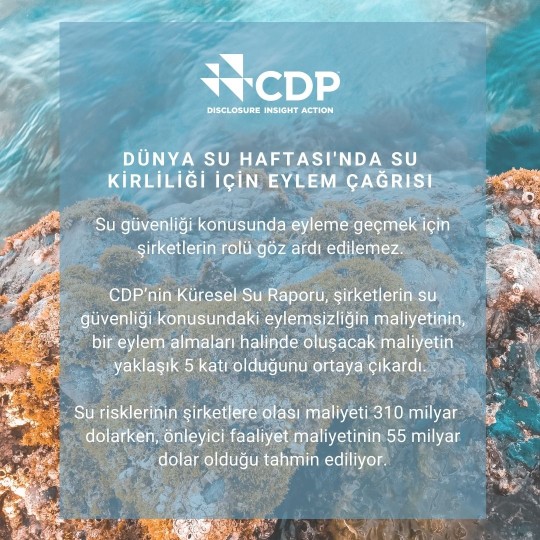 Submitted by hazal.bastimur on August 27, 2021
Analysis of the data CDP has indicates, while companies are making progress on reducing freshwater withdrawals and consumption, there is an alarming lack of action on water pollution, with just 4.4% of disclosing companies reporting any progress on water pollution targets.
CDP's 2020 Global Water Report found that the cost of inaction regarding water security for businesses is up to five times the cost of action. The potential cost to business of water risks was estimated at US$310 billion whereas the cost for preventative action was estimated at US$55 billion.
Two actions companies can take are:
-Commit to eliminate wastewater pollution in their own practices,
-Work with their suppliers to drive action at scale.
Şirketlerin su kirliliğinin yalnızca kendi operasyonları ve varlıkları içindeki değil, aynı zamanda değer zincirleri içindeki etkisini de anlamaları önemli. 5,5 trilyon dolar tedarik harcaması olan 200'den fazla satın alıcı, tedarikçilerinden çevresel veri talep etmek için CDP ile birlikte çalışıyor ve bunlardan 47'si özellikle su verilerini istiyor.
It's important for businesses to understand the impact of freshwater pollution not just within their own operations and assets, but downstream and throughout their value chain. Over 200 major buyers with US$5.5 trillion in procurement spend are working with CDP to request environmental disclosure from their suppliers, with 47 of these specifically asking for water data.
A water secure supply chain is essential for the long-term resilience of any business. Buyers are increasingly experiencing supply chain disruption from water-based physical impacts of climate change (e.g. floods, droughts, storms) which manifests as increased costs or failure of suppliers to deliver. Last year, suppliers reporting through CDP identified US$248 billion of company value exposed to water related risks.
This World Water Week, in the shadow of the latest climate science report and in the run up to COP26, it's clearer than ever: now is the time for corporate leadership and innovation on water.
Please click here for more information.