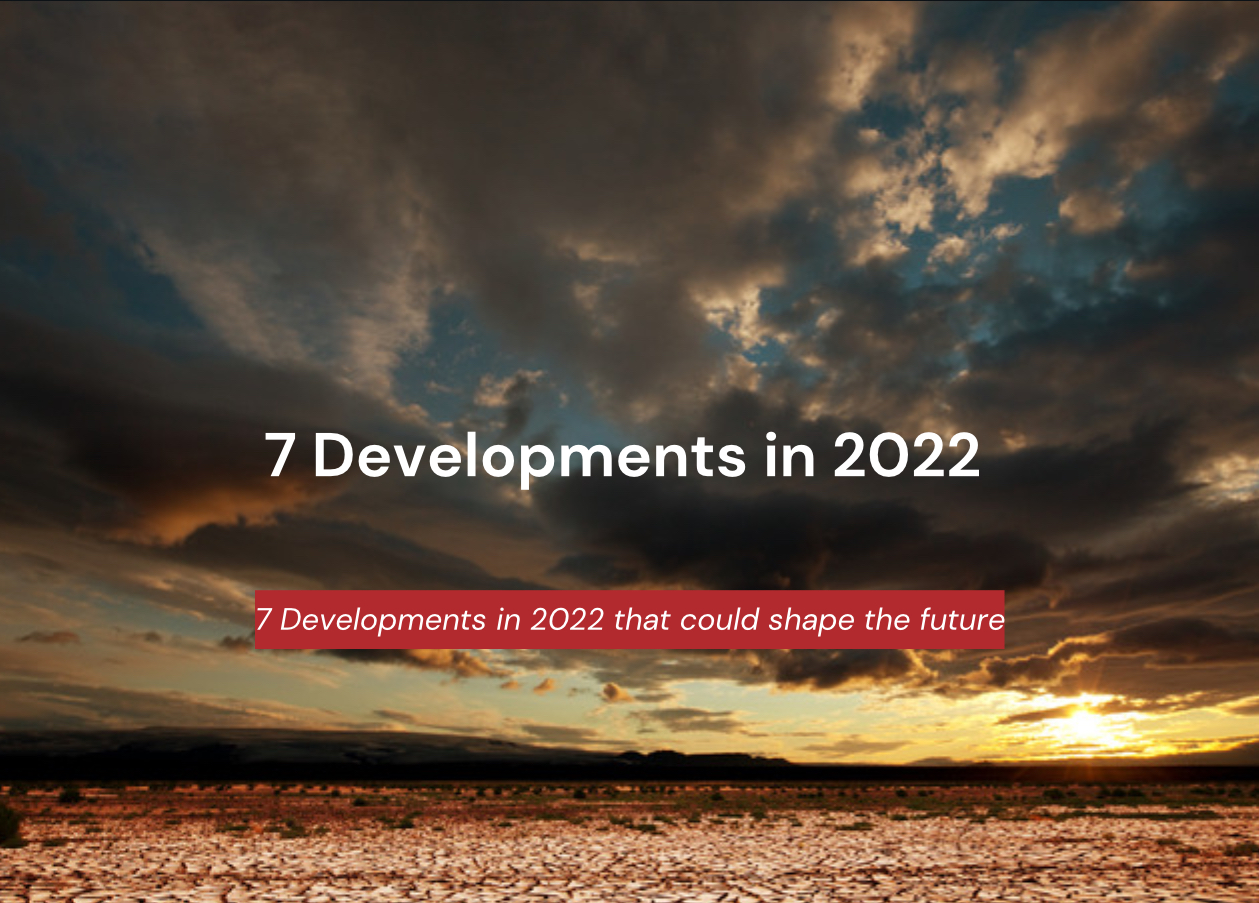 Submitted by selincene on January 16, 2023
2022 was a difficult year. As many of us continued to emerge from the COVID-19 pandemic and societies re-opened in a way we haven't seen in two years, global emissions followed suit. By the end of 2021, global CO2 emissions had "bounced back almost to the level of 2019". In September this year, WRI found that governments' national commitments would only see emissions drop by 7%, rather than the 43% needed. The impacts of climate change were ever more visible: from devastating floods in Pakistan to record heatwaves across Europe. 
However, 2022 also gave reason for hope. So, we end the year looking at a series of developments that could drive faster and better action across the economy and could play a significant part in reaching net-zero and restoring nature in the time we have left. I'm proud of the role that CDP has played, and will continue to play, in driving forward these developments. Here are my top seven developments of 2022 with the power to shape a better future. 
1. Mandatory disclosure sweeps the global economy
In September 2020, New Zealand became the first country to implement mandatory disclosure. 26 months later, disclosure is set to become mandatory in most major economies: from the UK to Switzerland to Brazil. Significant developments were made this year: in March, the US Securities and Exchange Commission released its long-awaited proposed rule on climate-related disclosure. Modelled in part on the TCFD recommendations and the Greenhouse Gas (GHG) Protocol, both of which our questionnaire is fully aligned with, companies disclosing through CDP are already well prepared to comply. 
The European Sustainability Reporting Standards (ESRS) are set to be submitted for adoption in June next year. These standards are robust in scope, requiring not just financial information but for companies to disclose their environmental impacts. The standards will have global reach as they apply to companies' value chains. CDP stands ready to use our disclosure platform to support companies to disclose in line with what is required of them by law and to take them further, preparing them for the world of tomorrow.
2. A long-awaited global baseline for climate-related disclosure
This year, the International Sustainability Standards Board (ISSB) progressed with developing the global baseline for climate-related disclosure for financial markets. Positive steps were made, with the ISSB announcing that the standard would require companies to disclose Scope 3 emissions; for most companies the largest source of their emissions. The standard, set to be published in its final form in the early part of next year, will be critical in boosting corporate action and accountability, providing financial markets, governments and regulators with clear, comparable data to inform their decision making
I was pleased to announce at COP27 that CDP will incorporate this standard into our disclosure system from 2024. With nearly 20,000 entities worth half of global capitalization already disclosing through CDP, this incorporation means that the standard will be rapidly scaled and adopted across the global economy in advance of it becoming regulation across the globe.
Another positive step in the journey towards standardization and digitization of foundational climate date is the announcement of the creation of a Net-Zero Data Public Utility (NZDPU). In November, we announced that CDP will collaborate with the Climate Data Steering Committee (CDSC) on efforts to provide NZDPU with a foundational layer of data. 
3. The White House announces a historic supply chain rule
Of course, with Scope 3 comes a focus on supply chains. One of the big announcements to note came in November, when the White House proposed mandatory CDP disclosure and science-based targets (SBTs) for all US Federal Government contracts over $50m. This is massive: the US Government is the largest purchasing organization in the world, making this one of the most significant supply chain rules in history. The White House's leadership will undoubtedly send ripples of change throughout both US and global supply chains – and signal to the companies that are lagging in their sustainability journeys that it's time to take action if they hope to be competitive and resilient in the 21st century economy. CDP is proud to support the implementation of this proposed rule and we look forward to working with other governments on similar initiatives. 
4. Making disclosure more accessible to SMEs and beyond
When it comes to supply chains, small and medium enterprises (SMEs) are a critical part of the picture. In 2022 we completed a successful pilot adapting our questionnaire for SMEs, which we are now rolling out for banks.
While our questionnaires have worked well for the world's largest companies, SMEs typically need something shorter, simpler and with no prior assumed sustainability knowledge, albeit still aligned to TCFD.
We collaborated with the International Chamber of Commerce and Exponential Roadmap Initiative in 2021 to create a simple, modular and easy to understand open framework which enabled us to produce a shorter, bespoke questionnaire set. We have piloted this for the last two years with hundreds of privately owned companies and have been delighted to see a response rate of well over 70%. The questionnaire is brief at just over 40 questions on climate, deforestation risk and water security; and we are pleased to make it available in 2023 to banks wishing to seek disclosure from their SME clients or SME suppliers of their clients. We are seeing substantial growth in enquiries for providing disclosure to support sustainable supplier financing solutions and are thrilled that this new questionnaire set will soon be able to fully serve the many SME stakeholders in our network, including our Supply Chain Members. 
5. A year for nature
2022 was undoubtedly a year for nature. It played a role at COP27 that would have been unimaginable until recent years, with the recognition that there is no route to 1.5°C without nature now widely accepted. At the UN Biodiversity Conference – COP15 – this month, governments agreed a new Global Biodiversity Framework, which commits countries to protect 30% of land and sea by 2030. Target 15 of the Framework includes a commitment by governments to ensure, by 2030, that large and transitional companies and financial institutions assess and disclose their risks, dependencies and impacts on nature. 
At CDP, we were excited to make significant progress in delivering our strategy to expand beyond climate, forests and water security to cover more environmental issues. In September, we announced that our disclosure system will expand to help tackle plastic pollution crisis. From next year, companies will disclose against new questions and metrics on plastic, initially through the water security questionnaire. 
In 2022, we collected data from corporates on biodiversity for the first time, which revealed a recognition of its importance, but too little action. CDP is uniquely positioned to scale disclosure, standards and existing best practice across the global economy. Next year, we look forward to providing more detail on how we will further progress this area, considering exciting developments such as the upcoming TNFD framework and how we can leverage our disclosure system to accelerate implementation of the new Global Biodiversity Framework and track progress against its targets.
6. A year of growth in Asia Pacific 
2022 was a year of growth in many ways in the Asia Pacific region, with the biggest growth in disclosure through CDP in 2022 coming from this region. The number of disclosing companies in China increased by 44% to more than 2,050 and by 93% in Japan to 1,700. China and Japan are now the second and third highest corporate disclosers respectively, behind just the United States. This ambition was also reflected in the policy arena, with CDP signing several new and exciting agreements with governments and regulators this year, including the Monetary Authority of Singapore and the Thai Securities and Exchange Commission (SEC), which aim to inform ambitious policy and drive more and better corporate disclosure. In order to further increase our engagement with stakeholders, CDP opened a new office in Singapore in March to act as a key strategic hub for the Asia Pacific region. We look forward to even more exciting progress in 2023, including opening our first office in Indonesia. 
7. The role of transition plans
2022 was an important year for transition plans. Globally, we are seeing an increase in importance being placed on companies detailing how they will transition to a 1.5°C world, and it is vital we see this reflected in transition plan disclosure. Throughout the year we have worked closely with bodies such as the UK Transition Plan Taskforce (UK TPT) to develop vital frameworks to support companies in developing and disclosing their transition plans. 
CDP continues to be a platform that companies can use to disclose their climate transition plans and we work to align closely with ISSB, TCFD and the UK TPT. This will be the second year that CDP has assessed climate transition plan disclosure and we look forward to releasing the 2022 climate transition plan report next year. It is encouraging to see the increased importance being placed on transition plans from policymakers through to disclosing companies, and increasingly how nature fits into these plans.
These exciting developments in standards and reporting, as well as transition plans, will enable a step change in transparency, ensuring investors have the information they need to align capital allocation with net-zero and stakeholders more broadly can hold companies to account against their commitments.
2023 must be a year of accelerated action. We are fast approaching 2030 and unfortunately our global target of a 1.5°C future is rapidly disappearing from sight. At CDP, we look forward to doing our part to support the economic transition to a net-zero future and supporting all real economy actors to do the same.