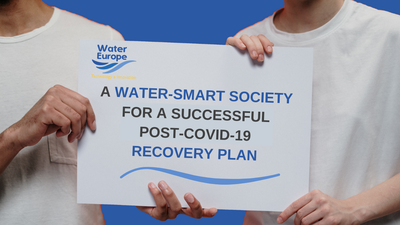 Submitted by firuze.alpaydin on April 29, 2020
Water Europe has recently published a new report with the contribution of CDP Europe and explained why successful water management is one of the most important issues to be emphasized in the post-COVID-19 period.
Some of the highlights from the report are as follows:
-The COVID-19 outbreak showed us that states are not prepared for both cross-boundary and cross-sectoral risks.
-Water has been identified as a key structural risk for our society for 9 years now with one of the 5 strongest severity of impact by the World Economic Forum. Water is our primary priority in all areas of life, but unfortunately we had to remember the water-health relationship once again through the epidemic.
-Investing in the water sector in Europe plays an important role in achieving a sustainable and green economy.
In the report, Water Europe shared the strategies to be followed in the post-epidemic period with its more than 200 members:
- We need to better understand our water footprint and strive to reduce it and increase water reuse with water recycling.
- We must manage water-related data more successfully and integrate digitalization into water management, and process and evaluate data more intelligently.
-Companies must disclose their environmental data to manage water risks, and policy makers should encourage companies to do so in the post-risk period.
You can click here for the full report.