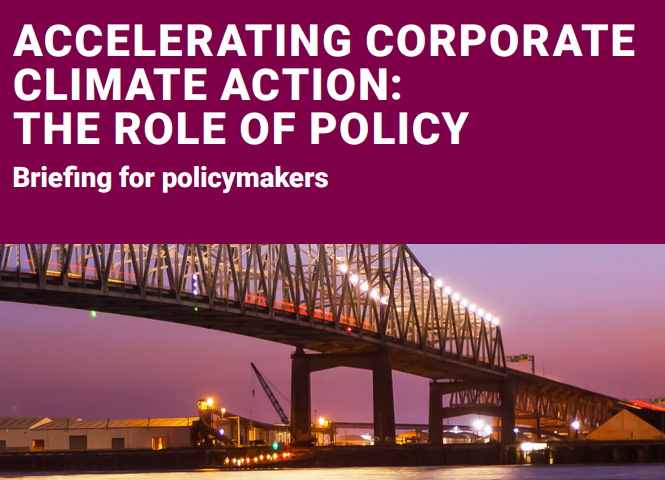 Submitted by firuze.alpaydin on December 11, 2019
CDP presented the Report called "Accelerating Corporate Climate Action: The role of Policy" at COP25 on December 10, 2019. 
Here are key messages of the report and some recommendations to policymakers:
Policy, both current and anticipated, is a major driver of actions taken by companies to manage climate change impacts;
The costs of managing policy-related risks are lower than the potential financial impacts for the majority of industries;
Policy can create financial opportunities, by driving demand for products & services and revealing cost savings;
Policy uncertainty is a risk, but the anticipation of policy is a powerful opportunity driver.
Policy makers should submit enhanced Nationally Determined Contributions (NDCs) by 2020, that are in line with the Paris Agreement's goals, and are consistent with long term strategies and national policies.
Policy makers shpuld ensure a conducive policy environment for globally standardized climate-related disclosure, mandating, where appropriate, the adoption of the recommendations of the Taskforce for Climate-related Finance Disclosure (TCFD).
Policy makers should set a price on carbon that is consistent with achieving the Paris Agreement's goals, as per the work of the High-Level Commission on Carbon Prices.
Please click here to reach the report.