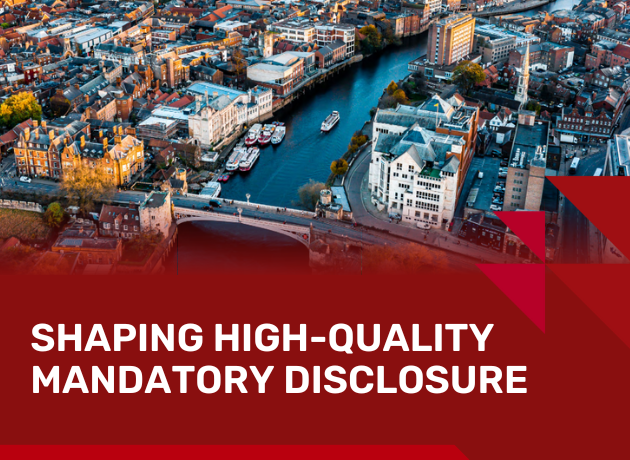 Submitted by elifsena.yaman on October 11, 2023
Shaping High-Quality Mandatory Disclosure
Over the past decade, many regions have implemented environmental disclosure requirements for both corporations and financial institutions (FIs). CDP's analysis reveals that these disclosure policies primarily emphasize financial disclosure related to climate change, aligning with the recommendations of the Task Force on Climate-related Financial Disclosures (TCFD).
However, notably and promisingly, these disclosure regulations are expanding to encompass a wider range of environmental concerns. This shift mirrors the growing recognition of the interconnectedness between climate change and broader environmental challenges. In this report, CDP introduces the "10 Principles for High-Quality Mandatory Disclosure (HQMD)," which can serve as a guiding framework for policymakers, financial market regulators, and stock exchanges. This initiative builds upon CDP's previous recommendations regarding climate-related disclosure regulation and reflects our ongoing commitment to enhancing data collection and methodology.
Given the significance of recent multilateral developments, including the Kunming-Montreal Global Biodiversity Framework, the Paris Agreement, and the 2023 UN Water Conference, CDP specifically focuses on regulations pertaining to climate change, biodiversity, and water security. Forests, an area where CDP has been at the forefront of disclosure for nearly a decade, intersect with these themes within the context of existing disclosure regulations. Additionally, CDP briefly touches on the emerging field of plastics disclosure, an area CDP expanded its coverage to in 2023, and which governments are addressing through ongoing Global Plastic Treaty negotiations. CDP's analysis encompasses policies from G20 countries and three additional regions: Singapore, Hong Kong, and Switzerland, collectively referred to as the G20+. CDP also provides our recommendations for achieving HQMD to facilitate a sustainable transition towards a 1.5°C-compatible, resilient, and nature-positive future.
It's crucial to emphasize that this effort was a collaborative one. The policy brief reflects input gathered from CDP's network and benefited from the insights of a cross-thematic steering committee comprising organizations with expertise in the relevant fields. Ultimately, CDP calls upon policymakers and financial market regulators in the G20+ regions to swiftly embrace the journey toward HQMD policy and regulation. The brief outlines the concept of high-quality mandatory disclosure regulation and assesses the current status of environmental disclosure regulations worldwide.
Working towards high quality mandatory disclosure
Efforts are underway to establish strong mandatory disclosure policies and regulations for environmental information. Environmental disclosure impacts corporate behavior and guides financial investments toward sustainability. It's crucial for informed decision-making and accountability in the private sector.
In 2022, many companies reported climate change data, but other areas like forests and water security had fewer reports. While voluntary climate disclosure is increasing, it lacks depth. Governments are stepping in with regulations to standardize disclosure, creating a level playing field. However, these policies are inconsistent, and influential disclosure frameworks are needed. New policies should build upon existing guidelines and provide clear direction for progress while avoiding fragmentation.
Integrating various thematic approaches to environmental issues is vital for consistency and addressing trade-offs. An integrated perspective is essential because environmental issues are interconnected and mutually reinforcing.
10 Principles for High-Quality Mandatory Disclosure (HQMD)
 
Ensure environmental integrity, addressing risk, opportunities, dependencies and impacts on people and planet, with a holistic environmental approach.

Ensure consistency and interoperability of disclosure regimes across jurisdictions, building off global baseline disclosure standards.

Ensure policy consistency in disclosure requirements across policies within a single jurisdiction.

Be rooted in science.

Bring in scope all businesses and financial institutions.

Include expectations on disclosure of climate, water and nature transition plans. 

Ensure quality and reliability, and set expectations on external assurance.

Provide an enforcement mechanism.

Strengthen the role of corporate governance bodies.

Cultivate an environment for innovation and advancing disclosure maturity.
For further information please visit the link.