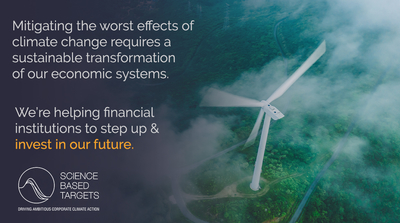 Submitted by firuze.alpaydin on October 6, 2020
The Science Based Targets initiative's new framework allows financial institutions – including banks, investors, insurance companies, pension funds and others – to set science-based targets to align their lending and investment activities with the Paris Agreement. 55 institutions already committed.
Nearly 1,000 companies in 50 sectors from coal and gas to pharmaceuticals, with a cumulative market cap of USD $15.4 trillion, have pledged to align their decarbonization plans with the Paris Agreement by adopting science-based greenhouse gas reduction targets (SBTs). But no such target framework was available for banks or other financial institutions – until now.
The new target validation service is developed by the SBTi, a collaboration between CDP, the United Nations Global Compact, World Resources Institute (WRI), and the World Wide Fund for Nature (WWF). It emphasizes the vital role of engagement with underlying assets to encourage companies to reduce their emissions and ignite climate action.
Cynthia Cummis, SBTi Steering Committee member and Director at World Resources Institute, one of the SBTi partners, said:
"Today's breakthrough means banks and other financial institutions can better understand and act on the link between their lending and investing activities and real-economy emissions. The finance sector now can, and must, build the bridge to a net-zero emissions economy and enable system-wide improvements based on climate science."
Please click here to read the full article.