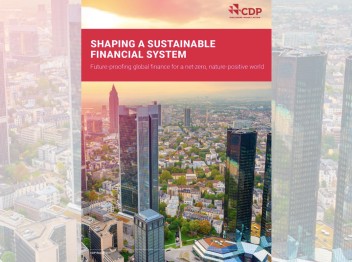 Submitted by hazal.bastimur on December 3, 2021
On October 28, 2021, CDP published its report titled "Shaping A Sustainable Financial System Future - Proofing Global Finance for a Net-Zero, Nature-Positive World". The report says that today's global financial system is unprepared for the upcoming shocks and the system is not resilient enough. Stating that the maneuvers of the financial system play a key role in tackling with climate change, the report states that the global economy must utilize its full potential to act as an engine in the transition to a low-carbon economy and sustainable development.
The report highlights that nearly 15 years after the upheaval caused by the 'Global Financial Crisis', a new 'paradigm shift' is reshaping the financial system. In response to an increase in catastrophic weather events, biodiversity loss and water scarcity, financial system actors are starting to realise the role that finance should take in the fight against climate change and environmental degradation. However, saying that a radical effort should be made for greening the financial system, CDP says that green financial instruments such as green bonds and green loans are important, but emphasizes that they will not be enough to overcome the challenges brought by climate change and environmental degradation and to bring about change at the required scale.
In this report, which includes the views of the CDP on how a sustainable financial system should be, policy makers as influential as 'the street' are requested to draw attention to the following three points;
Make environmental factors integral to investment criteria and corporate governance.
Make environmental criteria integral to financial stability considerations.
Align public finances and fiscal policies to support environmental sustainability.
CDP set out to transform capital markets by making environmental reporting and risk management a new business norm. In the early 2000's, the status quo was unbridled growth with little thought for the environmental consequences; many companies and investors didn't see climate change as a material risk to their profits and operations. The lack of information about how business was impacting the environment, and the risks of a changing climate and dwindling resources to the global economy demonstrated the need for a disclosure mechanism. To address this, CDP created the largest global environmental reporting platform for companies, cities, states and regions. With this report, CDP points the components of the financial system that will act as a lever for greater transparency on the impact of environmental issues; banks, insurance companies, credit rating agencies, financial regulators, Central Banks, supervisors and the stock exchanges.
Emphasizing that environmental sustainability should be addressed directly in the recovery packages announced to overcome the economic stagnation caused by the COVID-19 pandemic, the report offers the following recommendations to all market components in its main findings;
Policymakers and financial market regulators adopt mandatory disclosure requirements for capital market actors and companies.
Financial market regulators develop internationally aligned taxonomies.
Corporate governance codes and regulations are designed to account for environmental factors.
Supervisory bodies and regulators include environmental criteria in supervision and prudential regulation.
The mandates of central banks and financial market regulators and supervisors explicitly integrate environmental criteria.
Central banks integrate environmental factors into their own portfolio management.
A price on carbon is set, in line with the recommendations of the High-Level Commission on Carbon Prices.
COVID-19 economic recovery addresses environmental sustainability.
State owned companies disclose their impacts and their business model takes environmental considerations into account.
Environmental factors are integrated into sovereign wealth/pension funds risk management processes.
Please click to access the full report.