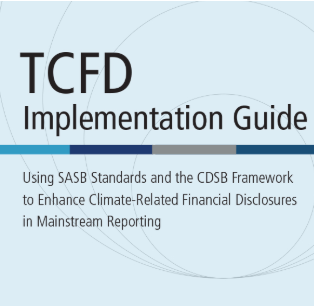 Submitted by temelzeynep on May 6, 2019
With more than 600 organizations publicly expressing support for the Task Force on Climate-Related Financial Disclosures (TCFD), global markets have resoundingly embraced the future of investor-focused climate reporting—at least in principle. But what about in practice? Despite this favorable response to the TCFD's recommended disclosures, which were released in June 2017, far fewer companies have implemented the recommendations in their core communications with investors. In explaining this "implementation gap," many have cited a need for practical guidance they can follow.
The Climate Disclosure Standards Board (CDSB) and the Sustainability Accounting Standards Board (SASB) have come together to bridge this gap. The TCFD Implementation Guide offers an effective solution for organizations around the world, in all industries and sectors, drawing on both organizations' well-established reporting frameworks to provide companies with how-to guidance.
Using the guide, companies can more effectively take the TCFD recommendations from principles to practice, yielding greater insight into the material climate-related financial risks and opportunities they face, equipping investors with reliable, comparable, decision-useful information, and enhancing the resilience and stability of global capital markets to drive sustainable, long-term economic development.
---
Please click here for more infornation and the publication.