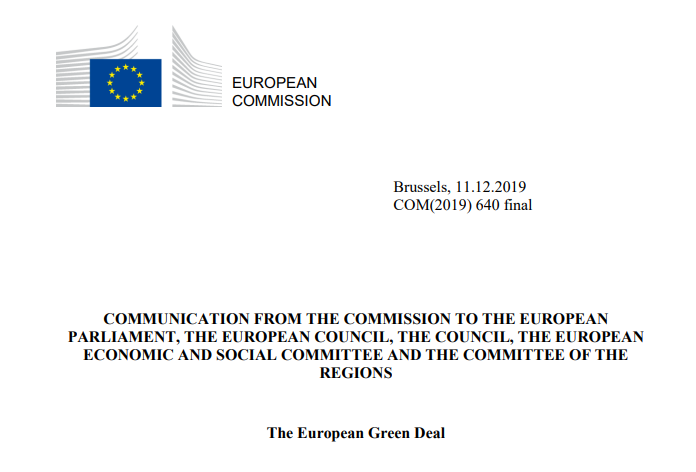 Submitted by firuze.alpaydin on December 12, 2019
The European Commission published "The European Green Deal" Document on December 11, 2019 which aims to make the European economy sustainable by turning environmental problems such as climate change into advantages.
The document, which covers all industries including transportation, energy, agriculture, construction, textile, chemical, cement, steel, is actually a new growth strategy according to European Commission President Ursula von der Leyen.
President Leyen stated that the European Union aims to become the world's leader in environment and sustainability and added: "We can all be involved in the transition and we can all benefit from the opportunities. We will help our economy to be a global leader by moving first and moving fast."
The key notes from the document are as follows:
Climate Targets: To increase the 2030 and 2050 climate targets of the European Union by 50-55% and to prepare a new Climate Change Adaptation Law.
Clean and Safe Energy Targets: Developing a strategy for the start of the renovation wave and the integration of energy-saving smart sectors
Sustainability and Smart Mobility Targets: Promote the production of sustainable alternative fuels and vehicles
"European Union as a Climate Leader" Target: EU plans to lead determining international climate policies
Global Cooperation: Launching the European Climate Pact as of March 2020, conducting joint efforts with the Third World countries as well as the G20 countries who are responsible for a very serious portion of greenhouse gas emissions.
However, EU leaders failed to find unanimity on the goal of making every country in the bloc climate-neutral by 2050, as Poland refused to sign up to the target because of its concerns. But it is stated that the council would return to this issue in June 2020, which would not change the timeline of the plan.
Please click here to access the original document.