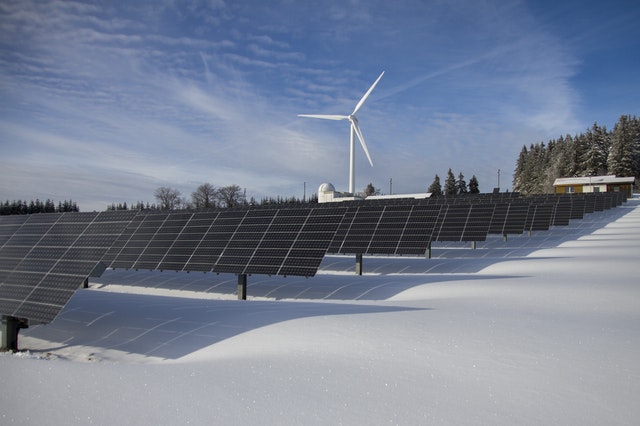 Submitted by firuze.alpaydin on August 11, 2020
By choosing renewable energy, companies can curb their greenhouse gas emissions and help tackle the climate emergency. Here are some practical tips to get you started.
The EU and the UK have ambitious plans for a net-zero emissions economy by 2050, while the world has just ten years to halve emissions and avoid catastrophic climate impacts. Companies will play a key role in meeting these challenging goals through the energy choices they make.
Energy is typically a source of significant costs and carbon emissions for businesses, but that dynamic is changing as renewables expand at a global scale, and wind and solar become cheaper than new-built coal and gas plants across two-thirds of the world. By choosing renewable electricity, companies take a measurable step towards reducing their carbon emissions at stable prices.
The right renewable energy strategy can help balance commercial priorities with carbon reduction targets. To get started, consider your company's sustainability and cost objectives:
Green energy is the fastest way to meet carbon reduction targets
Setting a science-based carbon reduction target and driving down emissions are necessary and fundamental steps for businesses today. By sourcing green electricity your company can achieve quantifiable reductions of scope 2 emissions as defined by the Greenhouse Gas Protocol. You can choose to source power from an existing renewable energy asset. Or, invest in a new asset, which helps bring clean energy jobs and growth to local communities and expands global green energy capacity.
To ensure management buy-in for your plans, show how sourcing of green power can reduce your company's carbon emissions and help progress key business performance indicators. And when you disclose your emissions reductions in the annual reporting cycle, it helps increase credibility of your sustainability work and signals green leadership towards customers, investors and supply chain partners.
Importance of budget certainty to the business
Energy contracts typically last 1-3 years and reflect market prices. In contrast, corporate power purchase agreements (PPAs) offer a fixed price over a long term, which provides budget certainty and reduces energy price risk. A mix of long- and short- term agreements could provide price certainty and flexibility, in case your energy needs change.
Large businesses can choose a Corporate PPA, where they enter into a long-term renewable energy supply agreement using energy from a specified project or green energy generating asset, such as an offshore wind farm or solar plant. Corporate PPAs can cover up to 100% of a company's energy needs and typically run for 10 years or more.
Turkey's Energy Market Regulatory Authority (EMRA) has completed the draft regulations for the Renewable Energy Source Guarantee Document (YEK-G) that will prove power generated by renewable producers is green and clean. According to the draft, YEK-G documentation will be produced and registered for green electricity producers for a newly formed market on Energy Exchange Istanbul (EXIST), where the cost of renewable electricity will be traded.
According to BloombergNEF, a record high 19.5GW of clean energy PPAs were signed by more than 100 companies in 23 countries in 2019, a 44% increase since 2018 and three times higher than in 2017.