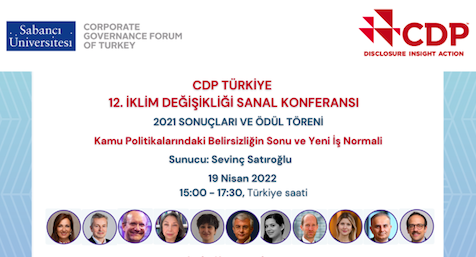 Submitted by hazal.bastimur on May 16, 2022
CDP, the world's biggest environmental reporting platform, of which Sabancı University Corporate Governance Forum has been the partner in Turkey, launched the Climate Change & Water Report 2021 and announced leader companies with the "CDP Turkey 12th Climate Change Virtual Conference" held on April 19, 2022.
The opening speeches of the conference were delivered by Garanti BBVA Deputy General Manager Ebru Dildar Edin and CDP Founder and Board Member Paul Dickinson.
The keynote speaker of the event, Gonzalo Muñoz Abogabir, High Level Climate Action Champion for the 25th Conference of the Parties (COP25), pointed out that he became more and more aware of the fact that for the private sector the cost of not acting about climate change was much higher than the cost of acting. He continued: "I know that companies in Turkey that disclose their environmental data have made remarkable progress this year in terms of Supplier Engagement Rating, which indeed shows that we are on track in terms of the progress we need to make to solve the climate crisis. Companies should not only evaluate their own environmental impact, they should also ensure that their suppliers act about it.".
The results of the CDP Climate Change & Water 2021 Turkey report were announced by CDP Turkey Projects Manager İdil Zeynep Dağdemir, CDP Turkey Director and Principal Investigator Prof. Dr. Melsa Ararat commentated the report. Please click here for our full report.
The panel with the theme "The End of Uncertainty in Public Policies and the New Business Normal" moderated by Volkan Ediger, Director of Kadir Has University Center for Energy and Sustainable Development. The panelists were Global Head of Value Chains & Regional Director Corporations Sonya Bhonsle, EBRD Climate Strategy and Delivery Managing Director Harry Boyd-Carpenter, Garanti BBVA Sustainable Finance Manager Seray İmer and Chair of Energy, Environment and Climate Change Roundtable Cevdet Alemdar.
In Turkey, Eti Soda, Kordsa and Tekfen qualified for the CDP Global Water A list. This year, no company from Turkey was included in the CDP Global Climate Change A list.
The companies that received awards within the scope of the event were also announced. Arçelik and Brisa became the CDP Turkey Climate Change and Water Leaders. Kordsa, Tekfen, Eti Soda as Climate Change Leaders and Aksa Akrilik, Aselsan, Migros, Coca-Cola and Yapı Kredi as Water Leaders were awarded. In the Supplier Engagement Rating category, Arçelik, Brisa, Coca-Cola, Ekol Lojistik, Ekoten, Eti Soda, Kordsa and Osmangazi Elektrik Dağıtım were deemed worthy of awards.
The conference ended with the closing speech of Sabancı University Corporate Governance Forum Director Ata Can Bertay. Please click here to watch our conference.