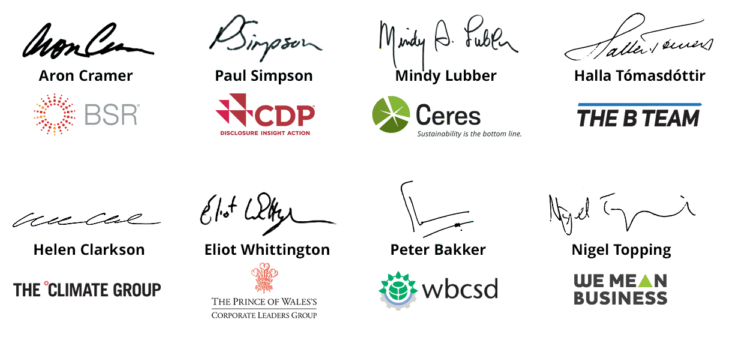 Submitted by temelzeynep on June 17, 2019
CDP, along with respresentatives from institutions like UN Global Compact, UNFCCC, UN Environment Programme, World Resources Institute (WRI) signed an open letter asking companies to set Science Based Targets. Science Based Targets are crucial for the fight against climate change in the sense that there is demonstrated evidence on Intergovernmental Panel on Climate Change (IPCC) Report that every half degrees of rise in world temperatures make a world of difference. Now that it is still not too late to take action and to reverse this situation, what is needed most is the climate leadership of companies, and the Science Based Targets aligned with the 1.5 target that was set in COP21 is the biggest helper of compenies for this cause. In the open letter, signatory institutions ask companies to set Science Based Targets for their businesses, and it is also indicated that the visionary ones who do so will be invited to be recognized to 2019 New York Climate Action Summit.
Full list of Signatories:
- UN General Assembly 
- UN Special Envoy for the 2019 Climate Action Summit
- UN Global Compact
- UNFCCC
- UN Environment Programme
- UN Secretary-General's Envoy on Youth
- CDP
- World Resources Institute (WRI)
- WWF
- We Mean Business (WMB)
- Global Optimism
- International Chamber of Commerce 
- Imagine
- Mahindra Group
- Champion for COP 24 Climate Champion through the Marrakech Partnership
- Mission 2020
- Business for Social Responsibility
- Principles for Responsible Investment (PRI)
- The B Team
- The Climate Group
- Global Citizen
- UN Foundation
- Ceres
---
For further information please click here.