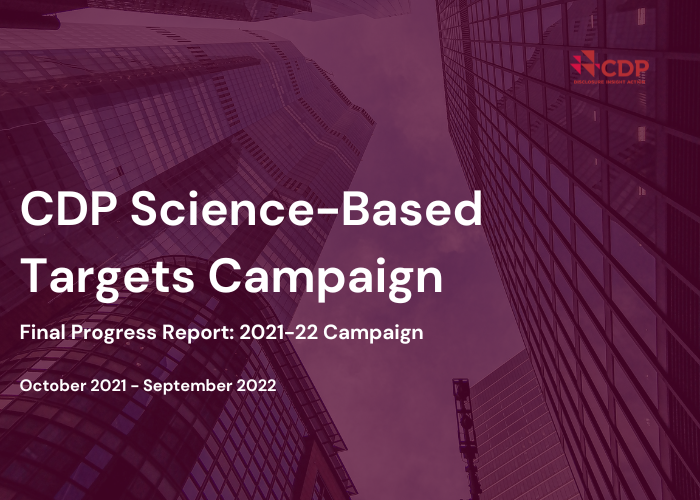 Submitted by selincene on November 4, 2022
Key takeaways
This campaign is helping to drive high-impact companies to set targets: 381 companies that collectively emit 1.65 GtCO2e of emissions have joined the Science Based Targets initiative (SBTi) or had their target approved during the two annual cycles of this campaign. On an emissions basis, this represents a 13% success rate of those targeted in the campaign. Emissions equivalent to the annual output of Japan and Germany combined are now set to be covered by SBTs.

The world's biggest economies are laggards: 2% of targeted Chinese companies have committed to or set a target through the SBTi, and just 15% of American companies.

The materials sector is moving fastest: On an emissions basis, almost half (44%) of all targeted companies that joined the SBTi during the campaign came from the materials sector. Transportation companies rank second with a 33% success rate.
Asia is a hotspot but seeing fast progress: On an emissions basis, 55% of targeted companies are headquartered in Asia. 22% of the committed emissions during the 2021-22 campaign were from companies in this region.

Capital markets are coming together, particularly in Europe: 60% more financial institutions (220) supported the 2021 campaign than in 2020. European capital markets (55% of all supporters) appear more mature than their American or Asian peers in engaging companies to set targets. Banks and insurers lag asset managers in all regions.

Multinationals want more from their suppliers: 26 global corporations with $500 billion in procurement spending also supported the campaign to decarbonize their supply chains.

Members of the Glasgow Financial Alliance for Net Zero (GFANZ) are lagging: 80% of GFANZ members are not supporting the new CDP SBT Campaign for 2022-2023, despite publicly committing to drive corporate action. Overall, this year the campaign has drawn 25% more financial institutions (274), with $38 trillion in assets altogether.
About the 2021-2022 campaign
The goal: This campaign drives the world's highest-impact companies to set science-based targets (SBTs) in line with 1.5°C of warming. By supporting the campaign, global financial institutions can more easily align investment and lending portfolios with the Paris agreement, and multinational companies can decarbonize their supply chains.
How it works:
Financial institutions and multinationals ask companies to set 1.5°C-aligned science-based targets

The number of listed companies setting science-based targets increases.

With more companies with targets, financial institutions can build Paris-aligned investment and lending portfolios, and large purchasing companies can achieve their own Scope 3 targets.

More financial institutions can set their science-based targets for their investment and lending portfolios, further incentivizing companies to act.
Here's the full report to see other deliverables for the campaign: https://bit.ly/3DBQLyP