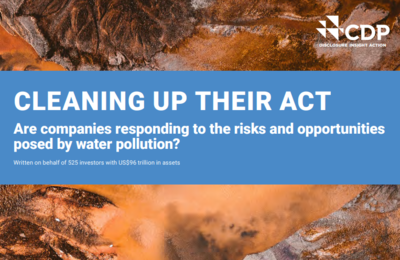 Submitted by firuze.alpaydin on April 30, 2020
The CDP Global Water Report 2019 has been published, aiming to explain to companies and investors how they can better address risks and opportunities related to water security.
The report has been shared this year with the title of "Cleaning Up Their Act" and focuses on whether companies can manage risks and opportunities from water pollution.
The report also includes worldwide analysis of 2,433 companies that responded to the CDP Water Safety Program in 2019.
Highlights from the report:
-This year, more companies than ever have responded to the CDP Water Security Program. According to recent research, responding companies have more chance to access capital than other average companies.
- The number of companies qualified for the "Water Leadership" has doubled, but these companies are just the tip of the iceberg. Many companies are still unaware of the importance of environmental reporting.
- Although World Bank says that water pollution is an "invisible risk" that will seriously affect the economies, only 10% of the companies that respond to CDP have placed the issue of water pollution at the top of water-related risks. More awareness is needed in this regard.
Please click here to reach the full report.