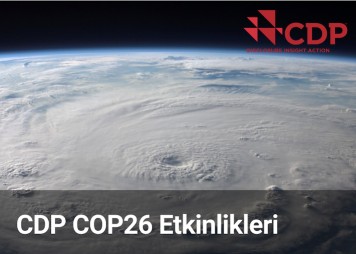 Submitted by hazal.bastimur on September 27, 2021
CDP will host a number of events during COP26. You can register for the events with the links given below.
Wednesday, 03 November, 13:00 - 14:00, GMT
Transitioning Finance and Financing the Transition
In order to finance the transition to net-zero, the industry itself must transform. This 2-part event will include: a discussion with leaders from financial institutions on regulatory and internal risk management changes and how this will transition finance, followed by a discussion with HSBC and Walmart on a collaborative product innovation helping finance the transition, by decarbonizing supply chains using sustainability linked loans. Speakers include: Katherine Garrett-Cox, Chief Executive Officer, Gulf International Bank (UK) and Chair of CDP Worldwide; Rishi Madlani, Head of Climate and Sustainable Finance, Natwest Group; Huifeng Zhang, Regional Head, Corporate Sustainability (Asia Pacific) HSBC; Ronnie Tham, Director at Walmart Global Sourcing. This event is sponsored by Liontrust, Lloyd's Register and Rothschild & Co.
Register now: https://bit.ly/3zCOW0D
Friday, 05 November, 15:00 - 16:00, GMT
Nature's Place in the Race: The Business Case
This event will present a selection of private sector actors who are leading in the implementation of Nature-based Solutions and explore what is meant by best practice, as well as how policymakers can incentivize businesses to move even further along their environmentally positive path, creating an ambition loop to accelerate progress toward the objectives of the Paris Agreement and Sustainable Development Goals. Speakers include: Gladys Naylor, Group Head of Sustainability, Mondi; Paul Simpson, Chief Executive Officer, CDP. This event is sponsored by Liontrust and Lloyd's Register.
Register now: https://bit.ly/3in1nYP
Monday, 08 November, 15:00 - 16:00, GMT
Scaling 1.5 Ambition
Join us for a deep dive into 1.5°C aligned corporate climate action. We will celebrate the progress made since Paris, discuss the challenges and opportunities of transforming hard-to-abate sectors and explore how investors and purchasing organizations can leverage their influence to drive 1.5°C aligned science-based targets and implementation. Speakers include: Paul Dickinson, Founder and Chair, CDP; Joe Adams, Corporate Environmental, Health & Safety Director, Stanley Black & Decker; Magali Anderson, Chief Sustainability and Innovation Officer, Holcim Ltd. This event is sponsored by Liontrust and Lloyd's Register.
Register now: https://bit.ly/3zDNE5p
Tuesday, 23 November, 15:00 - 16:00 GMT
CDP COP26 Debrief
CDP will be inviting experts to reflect on the outcomes of COP26, its implications for business and the action that needs to be taken now if we are to achieve a 1.5-degree future.
Register now: https://bit.ly/3i5dEkp
Monday, 08 November - Wednesday, 10 November
Sustainable Innovation Forum
The 12th Sustainable Innovation Forum takes place alongside COP26 in Glasgow with a fully programmed hybrid event creating a virtual window into COP26, connecting our physical and digital realities, and providing a trusted a global platform for you to engage in the most important climate meeting of our generation. The role of non-state actors in the transition to net zero is critical. The Sustainable Innovation Forum's platform offers all stakeholders the opportunity to have a tangible impact at COP, helping forge the cross sector, public-private partnerships essential for transformational change, showcasing business action, the power of green finance and the innovative solutions at our disposal today. Speakers include Aniruddha Dasgupta, President and CEO, World Resources Institute; Jonathan Brearley, Chief Executive, Ofgem. You can register for free or get a discounted Premium Digital Pass by using code CDP20.
Register now: https://bit.ly/2XH0P8s
Please click to follow the events: https://bit.ly/3ocIxHo