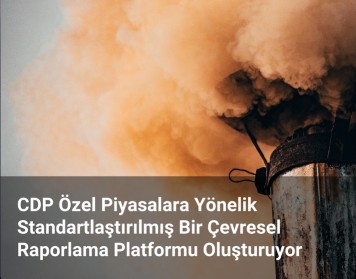 Submitted by hazal.bastimur on September 17, 2021
Requesting standardized environmental data from public markets and companies upon the request of international institutional investors, CDP will now also request this data from companies in private markets. Thus, standardized environmental data will be collected from private companies as well as public ones. CDP will make this request on behalf of an investor group with assets worth $2.3 trillion. Standardized disclosure platform will allow investors to benchmark private companies and compare like-for-like on environmental performance.
Private market investors with US$2.3 trillion of assets including M&G, Neuberger Berman and Nuveen are, for the first time, requesting standardized environmental disclosure from over 1,000 privately held portfolio companies through CDP, the non-profit global environmental disclosure platform.
A trend towards the privatization of high-carbon assets, such as BP's sale of its Alaska Oil and Gas business to Hilcorp Energy, risks diminishing transparency and performance on ESG issues since private companies do not have to comply with the reporting requirements of a listed entity.
To address this gap in transparency, CDP collaborated with a global group of influential investors to create the first ever standardized environmental disclosure questionnaire focused specifically on private companies. The so-called Private Markets Pilot's objective is to increase disclosure from private companies of all sizes, including the mid-markets and SMEs, and those with high-impact business activity that have historically avoided scrutiny on environmental issues and pressure to decarbonize.
To meet anticipated gaps in reporting, CDP will augment reported data with emissions estimates, allowing private market investors to calculate financed emissions so that they can set and report against their own net-zero commitments.