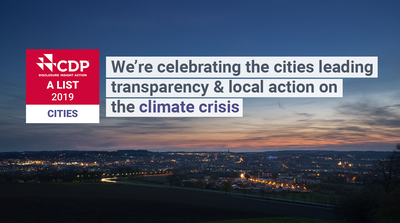 Submitted by firuze.alpaydin on March 6, 2020
Cities are taking the climate crisis more seriously than before.
CDP Cities Program A list has been recently released. In the space of a year, the number of cities on the A List has grown from 43 in 2018 to 105 in 2019. Representing a combined global population of 170 million, they are leading the transition to a climate-safe future and setting an example for others to follow.
The municipalities which has been responded to CDP 2019 Cities questionnaire from Turkey: Bursa Metropolitan Municipality, Denizli Municipality, Eskişehir Metropolitan Municipality, Gaziantep Metropolitan Municipality, İstanbul Metropolitan Municipality, İzmir Metropolitan Municipality, Kocaeli Metropolitan Municipality, Tuzla Municipality, Village of Kadıovacık.
Here are some successful and inspiring examples from cities who has entered the A list:
In addition to investing in resilient infrastructure, Vitoria-Gasteiz is also encouraging citizens to make more sustainable diet choices. The city has developed an Agri-Food Strategy and action plan, aiming to incentivize local food production, improve access to quality food and reduce the city's ecological footprint.
Vehicle emissions represent 30% of community emissions, so Fayetteville committed to building commuter-oriented bike trails to within ½ mile of all residents, with a larger goal to attain 25% multi-modal transportation for residents. Building partnerships is a key to success for the city. Working with the University of Arkansas, VeoRide, and Experience Fayetteville, the city is home to the first stationless bike share program in northern Arkansas and is also supporting bus ridership on Ozark Regional Transit by offering free fares for all rides within city limits.
In eThekwini, electricity consumption is the primary source of GHG emissions. Wanting to cut emissions, the city is focusing on decarbonizing its grid and pushing for renewable energy use. The city will implement a smart electricity grid that enables bidirectional power flow and includes large scale renewables from national and locally produced Small Scale Embedded Generation (SSEG) systems like rooftop solar panels. It will also ensure that 70% of private electricity demand is supplied by self-generated renewable energy by 2050. To accelerate the achievement of their target, and make this technology accessible, the city has launched a number of solar energy and energy efficiency programs, such as a GIS-based solar map and framework which will enable users to plan rooftop installations.
Please click here to reach the full A List and all the stories from CDP's 2019 Cities A list.