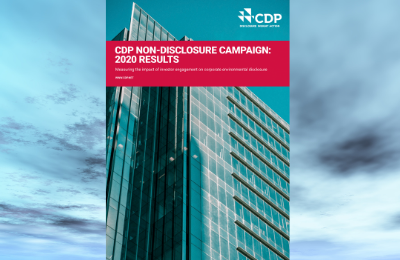 Submitted by firuze.alpaydin on January 20, 2021
Our annual Non-Disclosure Campaign offers investors the opportunity to actively target companies that have received the CDP disclosure request on behalf of investors but have not provided a response. The objective of the campaign is to drive further corporate transparency around climate change, deforestation and water security, by encouraging companies to respond to CDP's disclosure request.
The 2020 results of this campaign have been released. Here are the highlights from the report:
This is why in 2020, 108 institutional investors from 24 countries, representing USD 12 trillion in assets, signed up to this campaign and selected to engage 1,025 companies on CDP disclosure. These companies, based across 49 countries, represent USD 21 trillion in market capitalization.
Out of the 1,025 companies engaged in the campaign in 2020, 206 submitted responses to their targeted questionnaires. These companies represent USD 2.7 trillion in market capitalization. (roughly 3% of global market cap)
Reporting through CDP allows gaps in disclosure to be more easily identified, by both investors and companies. We also see improvement across KPIs with repeat disclosure. Companies disclosing through CDP for three years are more likely to have in place risk management procedures, targets, and emissions reduction initiatives than companies disclosing in their first year.

(See: Figure 1)
Please click here to reach the report.