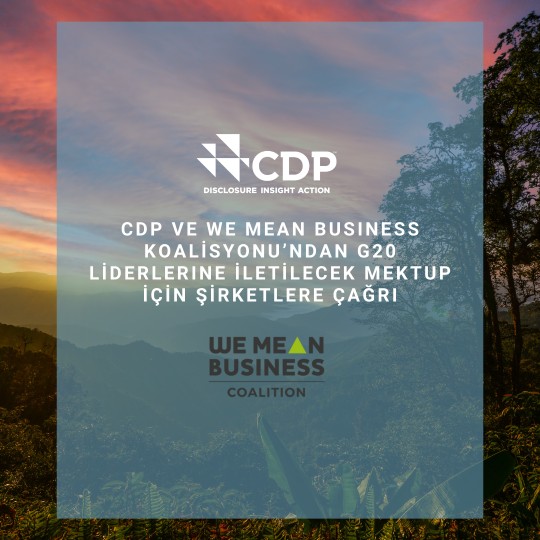 Submitted by hazal.bastimur on August 24, 2021
A campaign was launched by CDP and the We Mean Business Coalition for companies to invite G20 Leaders to go all in to keep the Paris Agreement's 1.5°C goal.
As a key part of delivering success at COP26, the We Mean Business Coalition is urging all companies that have a presence in at least one of the G20 geographies to support an open letter calling on G20 governments to strengthen their Nationally Determined Contributions (NDCs).
The letter calls for,
• at least halving global emissions by 2030, and committing to achieve net-zero emissions by no later than 2050,
• committing to ending new coal power development and financing immediately, and developing plans to phase out coal-fired power generation by 2030 for advanced economies, and 2040 for other countries,
• aligning public finance, COVID-19 recovery spending and fiscal policies with a 1.5°C trajectory, while ensuring adequate support for adaptation and resilience measures.
The deadline for signing the letter is 06:59, Turkey time, Thursday, 9 September 2021. The letter is scheduled to be launched around Climate Week NYC in September.
Please click here for more information and here to access the letter.
You can fill out this form to be included in the campaign.