CDP Turkey
CDP's 2017 Cimate Change Analysis is released
CDP's second annual analysis in the 'Tracking corporate action on climate change' series shows that companies are stepping up their response to climate change, setting more ambitious targets to drive longer-term progress towards their low-carbon future.
The second in the annual Tracking progress on corporate climate action series, this analysis monitors corporate climate action using a baseline sample of 1,800+ companies selected in 2016 to represent the most significant in terms of market capitalization and environmental impact.
Of these companies, 1,073 responded to CDP's investor-backed disclosure request this year, and their progress on reducing greenhouse gas emissions in line with the goals of the Paris agreement is being tracked against the benchmark set in 2016.
As well as tracking companies' progress on reducing emissions, CDP's annual analysis monitors the adoption of targets based on the most up-to-date climate science (science-based targets), use of internal carbon pricing, and renewable energy production and consumption. CDP is continuing to track the 700+ companies that have not yet responded to its disclosure request, to see if they begin to engage with this critical first step of climate action in future years.
Please click to access the full list of companies
CDP's New Report on Mining Industry
A new report 'Digging Deep' analyzing a US$294 billion market cap grouping of the world's major publicly-listed mining companies reveals they are generating up to US$16 billion in emissions costs by passing down the risk in their value chain. Miners are exposed to up to 30 times more emissions, equivalent to India's annual emissions, by passing the buck down despite efforts to reduce them in the last six years. The report from CDP – voted no. 1 climate change research provider by institutional investors – reveals mining companies remain heavily dependent on fossil fuels despite some sourcing almost half of their energy consumption from renewables. Miners are also spending almost half of their capital expenditure on low-carbon materials, such as copper and nickel, yet continue to spend over a quarter on fossil fuels.
CDP's Carbon Mayors Report shows just 100 Companies are source of over 70% of emissions
Historic new research from CDP, voted no. 1 climate change research provider by institutional investors, in collaboration with the Climate Accountability Institute, reveals that 71% of all global GHG emissions since 1988 can be traced to just 100 fossil fuel producers. This group is the source of 635 billion tonnes of GHGs emitted since 1988, the year human-induced climate change was officially recognized. The data also shows that 32% of these legacy emissions come from companies that are public investor-owned, highlighting the power of investors in the transition to a sustainable economy. The Carbon Majors report has been produced using the most comprehensive dataset of historic company-related greenhouse gas emissions produced to date. The report also shows that these global-scale emissions are concentrated over a small number of producers. From 1988 to 2015, just 25 fossil fuel producers are linked to 51% of global industrial GHG emissions.
CDP "Climetrics" was launched
CDP announced the official launch of Climetrics - the world's first independent and transparent climate impact rating for investment funds. This was launched at the Frankfurt stock Exchange. Climetrics has the potential to be an impactful addition to our toolkit for empowering investor action. Currently the fund market lacks transparency, and there is no good way to gauge a fund's climate impact. This rating, currently covering 2500 funds (about 60% of all equity funds and ETF's for sale in Europe, ca. EUR 2 trillion), makes this process simple for both institutional and retail investors for the first time. An overview of funds is available for free on climetrics-rating.org. Climetrics was catalyzed and funded by Climate-KIC, the EU's main climate innovation initiative. Top-rated results will be made public on www.climetrics-rating.org.
Melsa Ararat elected to the International Corporate Governance Network Board of Governors for the third time
Sabancı University Faculty Member and Corporate Governance Forum Director Melsa Ararat was elected for the third time to membership of the board of governors of ICGN (International Corporate Governance Network), a community that brings together asset managers and investors representing USD 26 trillion of capital. Melsa Ararat continues to be the first and only academic sitting on the ICGN board of governors, which has the power to influence investments and financial markets, particularly in the UK and US, through publishing guidances, discussion papers and surveys. Please clik here to read more.
CDP's Second Reimagining Disclosure Consultation
Between March and April of this year, CDP collected valuable feedback on proposed data points as part of the development of the 2018 questionnaires. CDP would now like to invite stakeholders to review draft questionnaires and provide confidential feedback as part of our second consultation. CDP aim to optimize the reporting process for companies, provide investors and stakeholders with the most relevant information, and focus on high-impact areas for investment decision-making. Feedback is important as we continue to drive innovation for the future of disclosure in a well-below 2-degree world. For more information please clik here.
How Global Investors are Using Climate Data?
Revealing new research of CDP shows how global investors are using climate data to support smarter investment decision-making.
The level of climate data available is now considerable – over 5,800 companies (representing close to 60% of global market capitalisation) report their climate data to CDP last year.
But what are investors actually doing with the data?
To help answer this question CDP is launching its first piece of research on investor case studies, illustrating how seven leading global investors use climate data to shape their investment decisions.
Many of the investors profiled in CDP's case study booklet are also using environmental data as a foundation for in-house products and strategies such as a carbon footprint, an engagement programme or a low carbon index.
Investors such as the UK's Environment Agency Pension Fund and CalPERS, the largest pension fund in the US, for example, both use CDP data to help assess the carbon footprint of their portfolio, i.e. to understand the total greenhouse gas emissions of their holdings relative to annual revenue.
For investors, the question is no longer whether to use such climate data, but how best to apply it to their particular investment strategy. In the space of fifteen years, that has made that use of climate data part of business as usual for investors.
Companites Continue to Take Ambitious Climate Action Through We Mean Business
More than 500 of the world's biggest companies, with over US$8.1 trillion in annual revenue, have now made over a thousand ambitious commitments as part of the We Mean Business (WMB) coalition's Commit to Action campaign.
Representing a huge variety of sectors and covering all major geographies around the globe, the fastest growing initiative is the Science-Based Targets initiative, of which CDP is a core partner. For more information: Commit to Action
CDP's New European Water Report
CDP's new European Water Report shows a growing divide between companies leading on water stewardship and those yet to engage with increasing pressure on water resources.
The findings suggest that the integration of the Sustainable Development Goals (SDGs) within European policy frameworks could provide more focus on water stewardship, helping companies reduce water risks and close this gap between leaders and laggards. View our European water report.
CDP will be Adopting the TCFD's Recommendations
The Financial Stability Board's Task Force on Climate-related Financial Disclosure (TCFD) is expected to make its final recommendations in time for the G20 meeting in July. This will be a crucial step towards integrating climate issues into financial reporting and potentially financial standards and regulation which will result in consistent, comparable reporting across sectors and geographies.
The TCFD has suggested that companies should assess their business strategies against a range of scenarios, including one where global emissions are on a path to keep global warming below 2 degrees. CDP supports the proposal and continues to develop tools and support initiatives that will help companies implement this, including a methodology to Assess the low-Carbon Transition (ACT).CDP will be adopting the TCFD's recommendations fully in its 2017 disclosure request, as part of a wider program of transformation called Reimagining Disclosure. Both CDP and CDSB responded to the most recent TCFD consultation identifying key areas for further development to maximize adoption and setting out a 'wish list' for what they would like to see in the final recommendations.
Meanwhile, CDP, CDSB, WWF, E3G and IIRC sent a joint letter to European Commission Vice-President Dombrovskis emphasizing the importance of the TCFD recommendations to the Commission and the G20.
CDP Supply Chain Report: Suppliers Report 434 Million Tonnes of Emission Reductions
The

Missing link: Harnessing the power of purchasing for a sustainable future

report from CDP, written in partnership with BSR and the Carbon Trust, reveals that reductions equivalent to 434 million tonnes of carbon dioxide – more than France's total greenhouse gas (GHG) emissions in 2014 – were achieved by suppliers worldwide in 2016.

The reductions were disclosed to CDP, at the request of 89 of the world's largest purchasing organizations, including BMW, Johnson & Johnson, Microsoft and Walmart. These 89 big buyers wield a combined purchasing power of US$2.7 trillion.
The new report – which includes commentary from McKinsey & Company – also reveals the names of the 29 companies awarded a position on CDP's first ever

supplier engagement leader board

. Selected from over 3,300 companies that were assessed, they are recognized as leaders for their work with suppliers to reduce emissions and lower climate-related risks in the supply chain.
The report, which analyses climate and water-related data disclosed by more than 4,300 companies, also indicates that the sustainability commitments and practices of leading organizations are not being replicated at scale downwards through the supply chain. Despite a 20% increase since 2015 in the number of big buyers requesting climate and water-related data from their suppliers, this is not translating into downstream action, with only 22% of responding companies currently engaging with their own suppliers on carbon emissions and 16% engaging with their suppliers on water use.

Where companies are proactively engaging with their suppliers, they face a serious lack of transparency, with nearly half (47%) of suppliers not responding to their customers' requests for climate and water-related disclosure.
CDP's Report on Oil and Gas Industry
CDP's new report, analyzing a US$1.2tn3 grouping of the world's major publicly-listed international oil and gas companies reveals a transatlantic divide as European companies outperform their US peers in preparedness for a low-carbon future by beginning to invest in alternative energy sources and shifting to gas.
• Emissions footprint of oil and gas industry and its products account for approximately 50% of global CO2 emissions1;

• European majors outperform their US peers in the shift to gas, investments in low-carbon technologies and on wider climate governance and strategy;

• Current business models continue to rely heavily on finding and proving reserves. Traditional industry performance metrics (and their interpretations) potentially outdated with peak oil demand on horizon;

• Investors may be at risk as companies are currently only obligated to report proved reserves2, with limited insight into how sensitive estimates are to oil price volatility;
• Statoil, Eni and Total are best performing companies on carbon-related metrics relative to the peers; Suncor, ExxonMobil, and Chevron rank lowest of companies assessed.
The report from CDP – voted no. 1 climate change research provider by institutional investors– finds that the industry needs better capital discipline to secure its place in a low-carbon future through lowering its cost base or returning capital to shareholders. The research also reveals that the absence of robust data on probable and possible reserves is a significant loss of valuable information to investors looking to compare asset portfolio risk across companies.
You can view the executive summary of the report here.
Please see the press release here.
CDP Turkey 2016 Water Program Report Revealed
Implemented by the Sabancı University Corporate Governance Forum in association with Garanti Bank, the CDP Turkey 2015 Water Program Report was revealed. The CDP Turkey Water Results Report prepared to analyze the responses of companies from Turkey was presented to the public in a conference at the Zorlu Performing Arts Center on Thursday, December 8, 2016.
Introductory remarks to the main outputs of the CDP Global Water Report and the results of the CDP Water Program in Turkey were given by Garanti Bank Assistant General Manager Ebru Dildar Edin. The keynote speaker of the conference was Coca-Cola Turkey, Caucasia and Middle East President Galya Frayman Molinas. Following the keynote, CDP Water Program Director Morgan Gillepsy presented the CDP Global Water Report results in a live video conference. The CDP Turkey 2016 Water Program results were presented by Sabancı University CDP Turkey Projects Director Mirhan Köroğlu Göğüş.
The event continued with the CDP Water Leaders Panel moderated by Sabancı University Vice President Professor Sondan Durukanoğlu Feyiz. Speakers of the panel were Garanti Bank Vice President Ebru Dildar Edin, Şekerbank Vice President Aybala Şimşek and Pınar Quality Manager Birol Delibaş.
The panel was followed by the 'CDP Turkey 2016 Water Leaders Award Ceremony'. The ceremony began with a speech by CDP Turkey Reporting Partner Deloitte Turkey CEO Humphry Hatton.
Garanti Bank Vice President Ebru Dildar Edin, Şekerbank President Servet Taze and Pınar Süt Quality Manager Birol Delibaş received their prizes on behalf of their respective institutions.
The conference concluded with closing remarks by Sabancı University Corporate Governance Forum and CDP Turkey Director Melsa Ararat.
-Please click here for the press release
-Please click here for CDP 2016 Global Water Report
-Please click here for CDP 2016 Turkey Water Results
CDP Turkey 2016 Climate Change Report Revealed
The Sabancı University Corporate Governance Forum revealed the results of the CDP Turkey 2016 Climate Change Program in a conference at the Zorlu Performing Arts Center on Wednesday, November 30, 2016. The CDP Global A List Awards and CDP Turkey Climate Leaders Awards were presented during the conference.
The event began with a video message by CDP President Paul Dickinson. Introductory remarks were delivered by Çimsa General Manager Nevra Özhatay. The keynote speaker of the event was International Corporate Governance Network (ICGN) Policy Director George Dallas.
CDP Vice President Sue Howells presented the CDP Global Climate Change 2016 Report Results in a live video conference. Afterwards, Sabancı University Corporate Governance Forum Director and CDP Turkey Director Melsa Ararat presented the results of the CDP Turkey 2016 Climate Change Report.
Presentations were followed by the CDP A List CEO Panel moderated by Posta Ankara Correspondent and CNN Türk Hafta Sonu Presenter Hakan Çelik. Speakers were Arçelik CEO Hakan Bulgurlu and Garanti Bank CEO Fuat Erbil.
CDP Global A List Leaders and CDP Turkey Climate Leaders received awards
The event concluded with the CDP Global A List and Turkey Climate Leaders Award Ceremony. The 193 companies that performed exceptionally and went on the Global A List had been announced on November 25 at the CDP Headquarters in London. Only two companies in Turkey, Arçelik and Garanti Bankası, were included in the 2016 list. Arçelik CEO Hakan Bulgurlu and Garanti Bankası CEO Fuat Erbil received prizes on behalf of their respective institutions.
Seven other companies were given the "CDP Turkey Climate Leaders Awards" this year. The awards were received by Brisa Human Resources and Institutional Development Director Nilgün Özkan, Coca-Cola İçecek Corporate Relations Director Atilla Yerlikaya, Çimsa General Manager Nevra Özhatay, Ekoten Tekstil General Manager İzhak Aydın Öztürk, Migros Human Resources and Industrial Relations Assistant General Manager Demir Aytaç, Pınar Süt General Manager Gürkan Hekimoğlu and Tofaş External Relations Director Güray Karacar on behalf of their institutions.
The awards were presented to winners by Sabancı University Vice President Sondan Durukanoğlu Feyiz.
-Please click here for the press release
-Please click here for CDP 2016 Global Climate Change Report
-Please click here for CDP 2016 Turkey Climate Change Report
The Business Alliance for Water and Climate
Water security – access to a reliable supply of sufficient amounts of good quality freshwater – is fundamental to achieving our low carbon ambitions. Without improved water resources management, the transition to a low carbon future, and achievement of the UN's 2030 Sustainable Development Goals will be jeopardized.
At the same time, climate change is expected to have direct negative impacts on the availability and quality of freshwater resources. Both situations will have spillover effects not only for global populations, but for business continuity and growth.
The Business Alliance for Water and Climate (BAFWAC), a partnership among the UN Global Compact's CEO Water Mandate, CDP, SUEZ and WBCSD, has set out a program of actions for companies who wish to demonstrate their commitment to being responsible water stewards. It is supported by UNFCCC and was launched on December 2nd during the Resilience Day of the Lima-Paris Action Agenda.
Companies have the opportunity to be at the forefront of an important movement within the sphere of corporate responsibility. Early action and leadership will be beneficial to companies' bottom lines, as well as the communities and environmental systems upon which they depend and impact. Adopting this commitment will promote their work to institutional investors whilst giving these important stakeholders confidence that the company understands the risks, is taking effective action, and increasing business resilience.
Major multinationals at forefront of drive to price carbon and meet climate targets but many companies still unprepared. Internal carbon pricing is moving from theory to practice with take up at more than 1,200 companies, a 23% increase year on year, with close to 150 embedding a carbon price deep into their corporate strategy, according to the latest research by CDP.
Nearly 40 major multi-national companies with a combined market cap of $1.5 trillion have disclosed a tangible impact to their business as a result of internalizing a cost on carbon. They describe a variety of ways in which this tool has directly shifted investments toward energy efficiency measures, low-carbon initiatives, energy purchases, and the development of new low-carbon product offerings.
These companies have seen the value of an internal price on carbon in helping make the business case for low-carbon investments, and are now shifting their use of the tool towards delivering company-wide strategic advantage and meeting their climate targets. CDP's report includes a series of new case studies detailing how internal carbon pricing is being embedded into corporate strategy.
This year's CDP disclosures come against a backdrop of growing momentum to address global warming pollution by national and local governments, new drivers like China's impending carbon market, and the recent ratification of the Paris Agreement by the US, Brazil and China. Last year the number of companies pricing their carbon emissions tripled, continuing a rise from just a handful in 2013.
According to data released by CDP today over 600 major international corporations with a combined market cap of US$12 trillion are already starting to factor the Paris Agreement in their business plans weeks before the major environmental legislation becomes law.
New CDP Analysis: Is Business Planning for the Emission Reductions Agreed at COP21?
The Paris Agreement on climate change was a clear signal from governments to global markets that the transition to a low-carbon economy is inevitable, irreversible and irresistible. But is the private sector acting on this signal?
The evidence is starting to come in – and the signs are positive. In 2016 over 600 of the world's largest listed companies disclosed to CDP that they are now factoring the Paris Agreement as a risk or opportunity that could generate substantive changes to how they do business. These disclosures were made only a few months after Paris and are a promising sign for the future.
Companies operating in the high-emitting utilities sector were the most likely to say that the Paris deal is impacting their business, with 47% highlighting this in their CDP disclosure. Businesses in other high-emitting sectors, such as energy and materials, were also among the most likely to identify changes as a consequence of the global climate change agreement.
For the full version of the report please click here.
CDP Policy Briefing: Role of Water in the Low-Carbon Transition
CDP's most recent policy briefing was launched yesterday and articulates why water security is critical in achieving the low carbon ambitions outlined in the Paris Agreement & the SDGs and speaks to some of the linkages between water & climate.
Key messages of the briefing are:
1. Water is a key enabler of climate action and NDCs across both mitigation and adaptation
2. There are strong synergies between water action and climate action – this is an opportunity not a trade-off
3. The private sector has a strong role – and should be asked to step up.
The briefing was published to coincide with World Water Week (which starts this Sunday in Stockholm). To support this, a short blog was posted yesterday on the Huffington Post.
CDP's Latest Research on Cement Industry is Releaved
On 9 June CDP released its latest research covering the cement industry. The report features 12 of the largest publicly held global cement companies who disclose to CDP and ranks them in a league table based on climate-related metrics which in aggregate could impact their financial performance.
The key findings are:
A large disparity between cement companies' carbon intensities.

Significant company earnings would be at risk from stricter carbon pricing regulatory regimes.

The industry will require stronger targets and increased R&D resources to align with a low-carbon economy.
CDP Response System is active until June 30
CDP response period continues for companies that are invited to disclose by international investors under the CDP Climate Change Program and CDP Water Program. Data from companies that need to submit their responses to CDP Online Response System until June 30, will be analyzed by the CDP team for rating and reporting.
CDP Climate Change and CDP Water Program Workshops took place
To support companies for the response period until June 30, a workshop was organized in April 6, at Salt Galata. The first part of the workshop, given by Kristian Hardeman, an expert from CDP, focused on climate change and the second part on topics related to water. Technical information regarding the response period and detailed information related to the program and topics were given to the participants coming from around 50 companies.
CDP Turkey participated in the Paris Climate Change Conference
CDP Projects manager Mirhan Köroğlu Göğüş was among the people attending the UN Climate Conference from Turkey. The CDP Turkey manager that went to Paris to watch the developments specific to Turkey and global initiatives of CDP for the COP21 period and to join the meetings, shared her experience on a lot of different platforms.
CDP 2016 Automotive Sector report releseased
Six months after VW scandal: Seven other automakers exposed to up to US$4.8billionin emissions penalties; GM and Ford are companies with greatest exposure;
Tightening environmental regulations boosting advanced vehicles market, especially in China;
Nissan, Renault, BMW and Toyota rank highest on environment-related metrics;
Suzuki, Tata Motors, Hyundai,FCA rank worst of those who disclose.
A new report, analyzing 15of the world's largest automakers with combined market capitalization of US$846billion, has found that tightening regulations on emissions are having a significant business impact in the wake of the Volkswagen scandal six months ago.
The report shows Volkswagen is not the only car maker potentially facing significant penalties as regulations on fleet emissions tighten around the world. Seven other car makerspotentially also face up to US$4.8billionin penalties (from the EU and UScombined) for non-compliance on their fleet emissions. The two US car giants General Motors and Ford are the companies at most notable risk – their penalties could potentially equate to a combined US$1.8 billion (114% of EBIT) and US$1.2 billion (27% of EBIT) respectively.
The report also identifies several automakers who have taken a lead on 'advanced vehicles', putting them at a competitive advantage in light of developments such as the Paris Agreement to limit emissions reached in December 2015 and increasing measures to disadvantage diesel vehicles. Nissan, Renault and Volkswagen are the only car makers to receive an 'A' grade from CDP in this area. Volkswagen launched five new models of advanced vehicles last year, contributing to a three-fold increase in advanced vehicles sales volume globally. There is explosive opportunity in China from advanced vehicles where some of the most stringent passenger vehicle fleet emissions targets combines with a booming market(CDP estimates China could have nearly two million advanced vehicle sales in 2020).

CDP'sautomotive 'Super League Table (SLT)' highlights those best prepared for climate regulation:
A Detailed Executive Summary of The Report is Available Here
Companies Blind to Climate Risks in Half Their Supply Chains
Following the historic international deal agreed at the UN climate conference, COP21, and the news from Davos that climate change is the world's most impactful risk[i], major companies such as L'Oreal, Walmart and Dell are establishing the extent to which impending climate regulation will impact their business. However, half their key suppliers fail to respond to requests for climate information, hindering efforts to understand and manage climate risk. So finds the largest ever study of climate data from suppliers and their corporate customers, produced by CDP and written in partnership with BSR.

The COP21 Paris agreement requires global greenhouse gas (GHG) emissions to reduce to net zero well before the end of the century. With supply chains responsible for up to four times the GHGs of a company's direct operations, they house sizable regulatory risk but also present ample opportunity for businesses to lower emissions.

For this reason, 75 multinationals representing over US$2 trillion in procurement spend work with CDP - providers of the global environmental disclosure platform - to seek data from 7,879 key suppliers on their carbon emissions and climate risk strategies. Information was received from 4,005 suppliers, meaning 49% failed to fulfill their customers' requests, creating a substantial blind-spot for those preparing for a carbon constrained world.

The climate performance of suppliers that disclose to CDP improves with time. Those that have participated in CDP's supply chain program for at least the past three years demonstrate a more robust approach to climate management than those disclosing for the first time. For example, around three quarters of the 1,850 repeat participants have climate risk management procedures in place and are actively reducing emissions. Fewer than half the 1,258 first time disclosers can claim these advantages, clearly demonstrating that measurement and disclosure lead to better management.

Regular disclosers are also better at realizing financial benefits. Repeat participants achieve an average of US$1.5 million in annual savings for each carbon cutting project, compared to first time disclosers, who average annual savings of US$900,000 per initiative.

To enable multinationals to benchmark their performance and drive improvements, CDP will this year score companies on the management of carbon and climate change across their supply chains, with results to be published in the 2017 supply chain report.
Clean Carbon Dataset Work
CDP has been undertaking work to produce a dataset of companies' greenhouse gas emissions data and has been contacting companies about this over the past 2 months.
CDP is facilitating analysis around the exposure of companies and investor portfolios to carbon risk through strengthening the accuracy and completeness of the GHG emissions data available to investors. In collaboration with Enviance Inc. and two professors from Carnegie Mellon University, CDP has today launcheda new methodology and supporting models to assess the accuracy of self-reported corporate emissions data and estimate Scopes 1, 2 and 3 emissions for companies that do not disclose them. This will help inform discussions on areas such as carbon footprinting and give investors access to high quality emissions data for use in portfolio analysis. The inclusion of Scope 3 emissions signals investors' changing perception of corporate GHG emissions from purely operational to value chain based.
The methodology has been applied to the Carbon Action sample and covers 6 years of Scope 1 and Scope 2 data, since 2009, as well as relevant up-/downstream Scope 3 Categories from the most recent reporting period. The full set of clean and complete data is available free for CDP's investor signatories on the CDP Portal. A subset of the historical data is available to everyone on CDP's Open Data Platform.

Carbon Action Infographic Released at the COP21 Summit
US$22 trillion investor group engaging with over 1,300 companies led by CDP;
Total reduction of 641 million tonnes of CO2e – equivalent to closing down over 168 coal-fired power plants;
New open-source methodology aims to establish 'common language' for greenhouse gas (GHG) emissions estimates.
A new infographic released at the COP21 summit in Paris today, shows the impressive results that can be achieved when investors incentivize corporate action on carbon reductions. CDP's Carbon Action initiative has this year helped reduce global corporate greenhouse gas (GHG) emissions by 641 million tonnes of CO2e and led to a 130% increase in the number of emissions reduction projects such as improvements in energy efficiency, low-carbon energy purchase and installation, process emissions reductions and improved transportation use.
Carbon Action brings together an influential group of 304 investors now with US$22 trillion in assets - up from US$6.7 trillion and 35 investors at launch in 2011. The group asks companies to help tackle climate change in three ways: i) make emissions reductions; ii) publicly disclose emissions reduction targets; and iii) invest in emissions reduction projects with a positive return.
Carbon Action assesses companies in energy intensive sectors including oil & gas, electric utilities, materials, mining & metals, transportation and consumer staples.
Results include:

A 77% increase in emissions reductions, amounting to 641 million fewer tonnes of CO2e in the atmosphere. This is equivalent to closing down over 168 coal-fired power plants[1]. Responding companies up by 145% to 552, a sixfold increase since 2011 launch.
130% increase in the number of emissions reduction projects, with a 121% increase in investments in these, now US$86 billion.
23% of companies in CDP's Carbon Action sample had no emissions-reduction targets in 2015, which continues to be cause for concern.
[1] Data from to United States Environmental Agency Greenhouse Gas Equivalencies Calculator: http://www2.epa.gov/energy/greenhouse-gas-equivalencies-calculator
CDP Turkey Climate Change Report 2015 is Announced
Turkey Report of CDP Climate Change Program is released to the public by Sabanci University Corporate Governance Forum under the sponsorship of Akbank and with the support of Deloitte Turkey's rating system and report. The report was released at the meeting organized in Sakip Sabanci Museum, the Seed Center, November 19, 2015. Creating a platform in which companies can share their strategies towards climate change with their institutional investors, CDP is considered as the world's most prestigious and widespread environmental initiative. 2015 Turkey CDP Climate Change Report includes the analysis of the responses from 46 companies including some from Turkey.
From the beginning of CDP Turkey Climate Change Project, the number of companies responding has increased 250%. 95% of the responding companies reported that they are approaching climate change as a senior and board of directors level issue. In addition 89% stated that they are integrating climate change into their business strategies.
During the meeting that the 2015 CDP Turkey Climate Change Report was announced, the opening speech was made by Akbank Investor Relations and Sustainability Department Manager Cenk Göksan. After that, General Secretary of United Nations Framework Convention on Climate Change, Christiana Figueres's speech was featured. The main speaker of the meeting, Head of BlackRock Europe, Middle East and Africa Corporate Governance, Amra Balic's speech was followed by Paul Dickinson, Executive Chairman of CDP. Melsa Ararat, the director of Sabanci University Corporate Governance Forum and CDP Turkey, gave further information on 2015 CDP Global Climate Change Report and 2015 CDP Turkey Climate Change Report. The speeches were followed by the award ceremony .
During the ceremony, CDP Turkey Climate Leaders were rewarded and companies from local "CDP Climate Disclosure Leadership Index" ,TSKB, Brisa, Garanti, Turkcell and Arçelik, were given the "CDP Turkey Climate Disclosure Leader" award. Garanti Bank was the only Turkish company that was in the global "CDP Climate Performance Leadership Index" list and therefore was given "CDP Turkey Climate Performance Leader" award.

You can find the complete 2015 CDP Turkey Climate Change Report here.
You can reach the newsletter including the summary of the report from here.
CDP 2015 Global Climate Change Report and Data Release: November 4, 2015
The CDP Global Climate Change Report 2015 offers a global analysis of the current state of the corporate response to climate change. For the first time, CDP compares the existing landscape to when the world was last on the verge of a major climate agreement. By comparing data disclosed by 1,997 companies in 2015 with the information provided by 1,799 in
2010, the report tracks what companies were doing in 2009, ahead of the ill-fated Copenhagen climate talks at the end of that year.
The companies that disclosed through CDP's climate change program this year were requested to do so by 822 investors representing US$95 trillion in assets. They span 51 countries and represent 55% of the market capitalization of listed companies globally.
Key messages:
- Clear momentum of company and investor climate action;
- Corporate world is increasingly climate transparent and accountable;
- We are on the threshold of an economic revolution;
- Continued action, meaningful corporate commitments and an ambitious global deal at COP21 will be the tipping point that brings the change we need.
- Company actions on climate change have gathered momentum in the past five years and signal corporate support for a low carbon economy;
- Investors recognize the strategic opportunity presented by the transition to a low carbon global economy and are increasingly seeking corporate accountability and using data to inform their investment decisions;
- CDP is driving the mainstreaming of measurement, transparency and accountability in order to reduce greenhouse gas emissions and protect our climate; and
- An ambitious global deal at COP21 is needed to unlock the corporate world's full potential and help ensure emissions reductions are in line with science (by 2050).

CDP 2105 "A Listers" Releaved
Three weeks ahead of COP21, the UN climate change conference, when national leaders meet to agree a global deal to reduce carbon emissions and limit global temperature warming, disclosures from the world's largest listed companies reveal the extent to which corporations have shifted their strategies over the past five years to become part of the solution to the climate challenge.
The international not-for-profit CDP - which holds the most comprehensive set of global corporate environmental data - has today issued its annual Climate Change Report on behalf of 822 investors representing US$95 trillion.
The new publication includes the 2015 Climate A List, which comprises those companies identified as A grade for their actions to mitigate climate change. Nearly 2,000 companies submitted information to be independently assessed against CDP's scoring methodology; 113 have made the list, which features brands from around the world such as, Apple, Microsoft and Google, the three largest by market capitalization. Garanti Bank is the only A list company from Turkey in 2015.
Companies globally are taking action and making investments to prepare for the transition to a low carbon economy. For example, at 94%, nearly all companies assign board or senior management responsibility to climate change and three quarters offer incentives for improving climate performance.
Nine of every ten companies now have activities in place that are lowering their carbon output, compared with less than half in 2010. The percentage of businesses with targets to reduce the intensity of their greenhouse gas emissions has also more than doubled.
Meg Whitman, President and CEO at Hewlett Packard Enterprise,
The growing momentum among the corporate world is coinciding with increasing engagement on climate change from the investor community. If the recently introduced landmark pension fund voting guidelines known as the Red Lines are applied, failure to disclose to CDP may put CEO jobs at risk. And more investors are betting on a sustainable future: US$21.4 trillion was invested in 2014 in funds with environmental, social and governance mandates, up 61% in two years*.
Companies are responding to investor needs by improving the quality of the data they report through CDP. However, notable by their absence in CDP's analysis are Agricultural Bank of China Ltd, Berkshire Hathaway, and Facebook the three largest by market capitalization companies that have failed to disclose to investors via CDP.
CDP 2015 Global Water Report and Turkey Results are Announced
World's most powerful and active environmental non-governmental organization CDP's Global Water Report, which aims to set private sector in motion regarding water resources, and Turkey's results were announced during the meeting on October 27, 2015 in Salt Galata.
According to CDP's new Global Water Report 'Accelerating Action', a total number of eight companies around the world deserved to be ranked in CDP's Water A List due to their approach to water management. None of the companies in the list are Turkey based.
On the other hand, according to Turkey's results 36% of the companies report that they have endured water based negative effects during the last reporting year. While 64% of companies report that water has become a significant risk, 86% is reporting that water is creating an opportunity for their companies.
CDP's Water Program was put into practice in 2015 by Sabanci University Corporate Governance Forum with the support of Garanti Bank. Besides the output from CDP 2015 Global Water Report, CDP Turkey Water Results Report including analyzes of Turkish companies that responded, prepared with the support of Deloitte Turkey, was announced to the public on 27 October 2015 Tuesday, 10:00 in the meeting at Salt Galata.
The opening speech was made by the vice rector of Sabanci University, Prof. Sondan Durukanoglu Feyiz and Deputy General Manager of Garanti Bank, Ebru Dildar Edin during the meeting that the major outputs of CDP Global Water Report and CDP Water Program's Turkey results were shared. After the video message of the president of CDP Water Program, Cate Lamb, Dr. Melsa Ararat, the director of Sabanci University Corporate Governance Forum, presented the CDP Global Water Report and Turkey's results.
-Please click here for the newsletter that includes the summary of CDP Water Program and Turkey's results
-Please click here for CDP 2015 Global Water Report
-Please click here for CDP 2015 Turkey Water Results
Commit to Action:
CDP's Commit to Business Leadership on Climate Campaign
Ahead of the UN Climate Change Conference in Paris this December (COP21), CDP and its We Mean Business partners are inviting companies to look beyond their disclosure and speak out on behalf of the business community in support of a universal climate agreement ahead of the UN Climate Change Conference in Paris in December. Right now, 217 companies have committed to one or more climate initiative. These initiatives are:
-Commit to adopt a science based emissions reduction target
-Commit to procure 100%of electricity from renewable sources
-Commit to removing commodity-driven deforestation from all supply chains
-Commit to report climate change information in mainstream reports as a fiduciary duty
-Commit to responsible corporate engagement in climate policy
-Commit to put a price on carbon
-Commit to reduce short-lived climate pollutant emissions
To make your support for a low-carbon economy public, commit to any—or all—of the innovative and practical initiatives. Join the growing number of companies that have already taken steps to safeguard their future prosperity.
CD
P Calls Companies to Sign "Paris Pledge for Climate Action

"
The Paris Pledge to Action is a new initiative of the COP21 presidency (French government), that will be launched during COP21. The French government will launch a statement demonstrating non-state leadership on climate change and support for a global agreement, called the Paris Pledge for Action.
The Paris Pledge targets cities, states and regions, businesses, investors and other non-state actors. Signatories affirm a strong commitment to climate action, and express their support of the adoption of a new, universal climate agreement.
It is important to note that this is not another commitment, rather it is an opportunity to bring together the various pledges, commitments, and announcements and provide a high-level statement that connects them all.
Companies can sign up via http://parispledgeforaction.org/
Can Cities Quit Fossil Fuels?
Cities are significant consumers of energy and contributors to carbon dioxide emissions. Cities are reporting to CDP that they are moving to reduce their contribution to climate change, with many using alternatives. In 2015, the number of cities reached to 308. It is equivalent to the area which nearly half a billion people and the combined population of the US, UK and France. Cities are taking to quit fossil fuel use. Currently, 96 cities (nearly a third) are taking action to decarbonize their energy supply, showing that cities are driving the transition to clean energy. Cities such as Stockholm, Sweden and San Francisco, USA have set the aggressive goal of reaching 100% clean electricity. 96 Cities - 1/3 of cities participating in CDP – are already taking action to decarbonize their electricity supply. And 86% of these cities say taking action on climate change presents an economic opportunity. This could have a huge impact on global emissions: Cape Town alone could reduce its emissions by 1 million tones CO2e. That's the equivalent of 300 wind turbines. Across the globe cities are setting ambitious goals to encourage the shift to a low-carbon future. Santa Monica, San Francisco and Stockholm all have targets to get 100% of their electricity from renewables. Aspen, which also disclosed its 100% renewable electricity target to CDP, has in fact achieved that goal this September.
Data disclosed to CDP this year reveals that in many countries, cities are helping drive the transition to renewable energy. Through their contribution to national targets and innovative identification of projects, cities are showing that the shift to clean energy is within our reach.
Corporate Support for a Global Agreement on Climate Change
In CDP's 2015 annual global climate change report, companies were invited to say whether their board supports an international agreement between governments on climate change and to describe their board's position on what an effective agreement would mean for their company. According to the results more than 800 of the largest listed companies favor a global deal to tackle climate change. In countries such as India and South Africa, the majority of companies responding to the two questions showed their support for an agreement in Paris. These companies are demanding a legally binding international agreement that will ensure net zero greenhouse gas emissions well before the end of century. Officials from BMW AG, Germany states: "We are calling for a universal, ambitious and balanced climate agreement with a long term goal to achieve global net-zero emissions within the 21st century, backed by national contributions that create an upward spiral of ambition." However, to achieve this long-term goal, the agreement must also include several other components, such as:
A ratchet mechanism that ensures continuous improvement of current targets and spurs national, sub-national and corporate ambition to reduce greenhouse gas emissions further and faster,
Principles and mechanisms that enable carbon pricing to be implemented across the globe,
Clear accounting and reporting rules to track global progress,
A clear framework for governments and private sector that enables them to provide investment in the low carbon economy and climate resilience at scale,
Equal treatment of mitigation and adaptation with governments leveraging private sector finance to build adaptive capacity
These components of a Paris agreement will ease the transformation to a low-carbon economy.
Threefold Surge in Companies Disclosing Carbon Price Shows Climate Change Concerns Going Mainstream
September 21, 2015, New York: Major multinational corporations including; Allergan, Campbell's Soup, Colgate-Palmolive, Stanley Black& Decker, Exxon Mobile, General Electric, Nestle, Microsoft, Nissan and Volkswagen are assigning a price to their carbon emissions. Over the last year, they have tripled in number from 150 companies to 437 companies. Including the 583 companies that say they plan o use an internal carbon price in the next two years, over 1000 companies are now disclosing they currently price or will be pricing their carbon emissions to try to meet their climate change risks. In Asia, over ten times as many corporations disclosed they put an internal price on their carbon emissions this year, among are LG, NEC and Hitachi. Corporations chose to use the prices applied (ranging from $1 per tonne to $357 per tonne) as part of their efforts to mitigate risk from current or potential regulation; drive investments in clean energy purchases or other GHG reduction activities and to prioritize energy efficiency. Lance Pierce, president for CDP North America says: "The world's biggest corporations anticipate a future in which their carbon emissions carry a price. The disclosures to CDP detail how and why companies are pricing their own carbon pollution now to help build competitive advantage for the future".
Top Corporate and Sub-National Climate Commitments
September 2015 Update
The past few months have seen a surge of climate activity from companies, states, regions, and cities around the world. Dozens of CEOs announced new climate actions, including 13 US companies whose pledges will generate $140 billion in new low-carbon investment.
Based on our latest data, 172 major companies, states, regions, and cities around the world have committed to reducing their GHG emissions by 80-100%, or to procuring 100% of their power from renewable sources. Governors and premiers met in Lyon and Ontario to call for strong action from national governments at the Paris Climate Conference later this year.
Leaders are motivated to be bold in addressing climate change because ambitious climate action makes good business and policy sense. Firstly, reducing energy use is more efficient. As former Walmart President and CEO, Mike Duke, put it: "Reducing carbon in the life cycle of our products will mean reducing energy use. That will mean greater efficiency and lower costs, making our business stronger and more competitive." Secondly, many companies and governments believe that investing in low-carbon industries will give them a competitive advantage in the future. In addition, financial innovations are making it possible to reap energy efficiency gains with little to no upfront cost. Eric Schmidt, the executive chairman of Google states "We're serious about environmental sustainability not because it's trendy, but because it's core to our values and also makes good business sense. After all, the cheapest energy is the energy you don't use in the first place. And in many places clean power is cost-competitive with conventional power." They have committed more than $1.8 billion to renewable energy projects, including wind and solar farms on three continents. State of North Rhine-Westphalia is one of the states that are aiming to reduce their greenhouse gas emission by 80% by 2050. Minister for Climate Protection and Environment, Johannes Remmel said "Addressing climate change is a huge opportunity for innovation, job creation and giving North Rhine-Westphalian businesses a competitive advantage globally. For us, climate protection is an engine for progress, and the best economic policy for North Rhine-Westphalia."These are the reasons why national leaders must be bold in Paris.
Carbon Pricing in the Corporate World
Over thousand companies are now disclosing to their key stakeholders that they currently price their carbon emissions, or intend to in the next two years, to try to meet their climate change risks. Corporations use internal carbon pricing to offset the costs and risks of greenhouse gas production, and to finance the transition to secure sources of low-carbon energy. In 2015, 437 companies reported that they use internal carbon pricing; in 2014 there were only 150 companies. The biggest jump comes from the Asian companies. Another 583 companies reported that they intended to use the pricing system in the next two years. Leading public companies are expecting limits on greenhouse gas emission and they are using an internal carbon price to plan for carbon restrictions. Therefore, they also seek and would welcome regulatory certainty.
Some examples from 2015 CDP disclosures from around the world:
SASOL LIMITED, a South African company in energy sector, has developed internal set of carbon pricing assumptions for the different geographic areas that they operate.
LOTTE CHEMICAL CROP, a South Korean company, is stating that it has become standard operating practice in business planning, in that the companies acknowledge the process of ongoing climate change.
In countries where carbon pricing has become a matter of interest such as UK, DELPHI AUTOMOTIVE PLC sites are identifying alternative solutions to minimize energy consumption and reduce carbon dioxide emissions from operations.
ARCHER DANIELS MIDLAND, a North America based company, is using internal price of carbon the forecast potential costs of regulatory schemes such as cap and trade.
Business and the Paris Agre

em
ent
In 2015 companies were invited to respond to two new questions in CDP's annual global climate change questionnaire: firstly to say whether their board supports an international agreement between governments on climate change, and secondly to describe their board's position on what an effective agreement would mean for their company and the activities they are taking to deliver.
Analysis of the responses shows that companies which have formulated an opinion on a global climate deal are overwhelmingly in support of an ambitious agreement in Paris. More than 800 of the largest listed companies around the world favour a global deal to tackle climate change.
Linking with GRI and CDP-Linking CDP Water Questionnaire for the first time in 2015 besides CDP Climate Change Questionnaire
CDP and the Global Reporting Initiative (GRI) have published a detailed document explaining the similarities and differences between the GRI's G4 Guidelines and CDP's 2015 climate change questionnaire and CDP's 2015 water questionnaire for the first time. The linkage document outlines how reporters can efficiently use or adapt the same data in both reporting processes, and links CDP questions to GRI indicators and also GRI indicators to CDP questions. It is hope that this approach will make the document more helpful for companies.
The document about how GRI's G4 guidelines and CDP's 2015 climate change questions are aligned is available on following link.
CDP Water Progtam Has Launced in Turkey with Collaboration of Sabanci University Corporate Governance Forum of Turkey and Garanti Bank

CDP Water Program is aiming to make private sector companies take action about water management. CDP Water Program has launched in Turkey this year and the program provides a platform where companies can share their water usage information clearly. By considering the water usage risks, CDP applied sectoral filter to BIST 100 index and identified 50 companies in Turkey to invite to respond to CDP Water Program in Turkey.
The president of Sabanci University, Prof.Dr.A.Nihat Berker, Executive Vice President of Garanti Bank,Ebru Dildar Edin, the Director of Sabanci University Corporate Governance Forum of Turkey, Melsa Ararat made speeches during the launch event. The Chairman of CDP Global Water Program, Cate Lamb stated in her video message that the program is aiming to start new period about water in Turkey.
Please see press release here
Please the list of invited companies here
CDP Supply Chain Report 2015 was Released
Climate Change is once again rising up the global agenda. Uneven responses among suppliers present threats and opportunities for companies at the top of supply chains. This year's supply chain program involved 66 corporations with $1.3 trillion in procurement spend. They requested that their suppliers disclose information by generating the largest ever set of such data,from 3,396 companies worldwide, up from 2,868 in 2013.
The CDP Global Supply Chain Report 2015 states that the program's 66 members have recognized the importance of climate change issues and have taken steps towards addressing them. Finally, CDP urges policymakers must acknowledge their responsibility, and provide regulatory support to encourage companies to address climate risks.
For more information please click following image.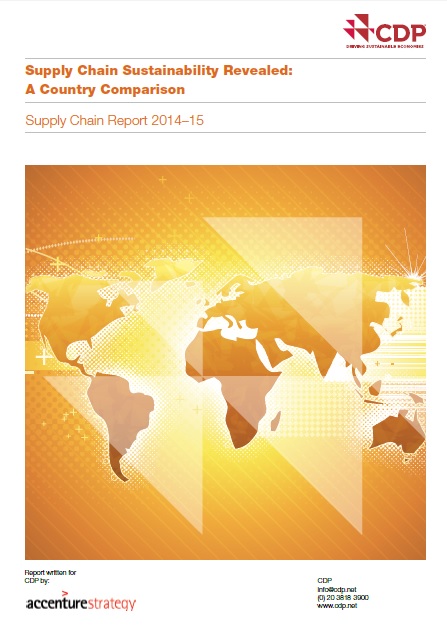 CDP Global Water Report 2014 was Released
CDP's Global Water Report 2014 explores the increasing recognition that mismanagement of water can result in significant business failure while effective and innovative action can result in sustainable growth.
The report underlies that two thirds of the world's largest companies are reporting exposure to water risks, some of which have potential to limit growth.
For more information please click following image.
CDP Global Forest Report 2014 was Released
CDP's global Forests Report 2014 draws in the disclosures from 152 companies, representing a market capitalization of over US$3 trillion, on four key forest-risk commodities - cattle products, palm oil, timber products and soy.
Produced by CDP in behalf of 240 investor signatories representing Us$15 trillion in invested assets, the report focuses on the corporate commitments to breaking the link between deforestation and commodities in company supply chains.
The report is designed around a roadmap, describing how corporate commitments to cutting deforestation can be translated into action.
For more information please click following image.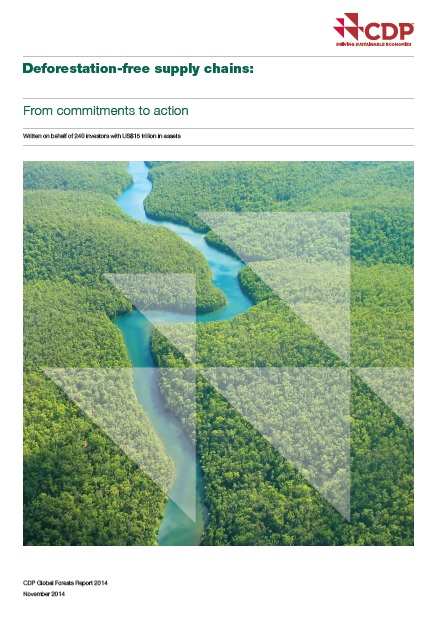 CDP Turkey 2014 Climate Change Report Launch and Climate Leaders Award Ceremony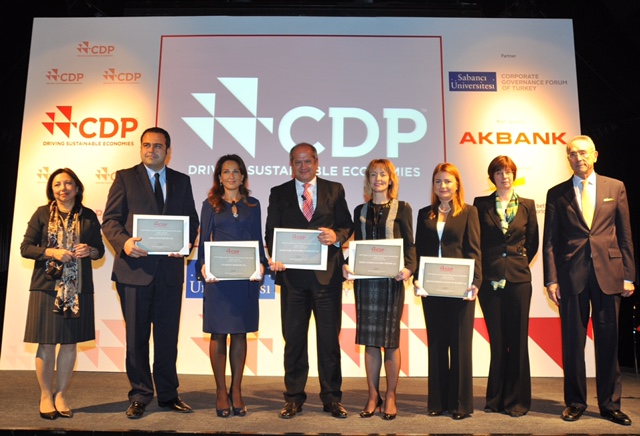 CDP Turkey revealed its 2014 report on November, 3, 2014.

Agenda
14.00-15.30: Speakers
Opening Speech: Cenk Göksan, Akbank, Investor Relations and Sustainability, Senior Vice President
Sue Howells, CDP, Co-Chief Operating Officer (Please see the presentation here)
Video Message from European Commission: Jos Delbeke, European Commission, Director General for Climate Action (Please see the video message here)
CDP Turkey 2014 Climate
Change Report Results: Dr. Melsa Ararat, Sabancı University, Director of CDP Turkey (Please see the presentation here)
CDP Climate Leaders Panel:
Kamil Başaran, CEO, Tofaş Otomotiv
Ebru Dildar Edin, Deputy General Manager, Garanti Bank
Sue Howells, CDP, Co-Chief Operating Officer
Moderator Dr. Artunç Kocabalkan
15.30 - 16.00: CDP Turkey 2014 Climate Leaders Award Ceremony (with the participation of Dr. Erkut Yücaoğlu, President, TÜSİAD High Advisory Council)

The event included the presentation of CDP Turkey 2014 Climate Leaders awards and announcement of "CDP Climate Performance Leadership Index" (CPLI) and "CDP Climate Disclosure Leadership Index" (CDLI) which are just started to be announced in Turkey this year. Tofas Otomotiv is the first and only company from Turkey listed in "CDP Global Climate Performance Leadership Index" (CPLI) and CDP A List Report in 2014.
Garanti Bankası, Coca-Cola içecek, Zorlu Enerji Elektrik Üretim, Ekoten Tekstil Sanayi ve Ticaret A.Ş. ve Noor Fındık were awarded as CDP Turkey Climate Disclosure Leaders and their awards were handed by Erkut Yücaoğlu, President, TÜSİAD High Advisory Council.

For more information please click following image.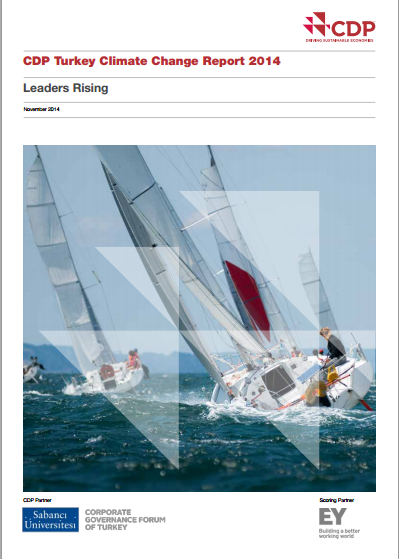 ''Sustainable Investment in Turkey: The Case in Context - An Update'', 2014 Report Has Been Released
Sustainable Investment in Turkey: The Case in Context - An Update, 2014 report has been released by Sabancı University Corporate Governance Forum (SU CGFT).
The report is the final report of Sustainability Index Workshop Project organized jointly by SU CGFT and the UN Sustainable Stock Exchanges Initiative and sponsored by the British Government.
The report is a sequel to the "Sustainable Investment in Turkey, 2010" report (IFC, 2011). Although this paper provides an update to the relevant sections of the original report, its ultimate objective is to reflect on Turkey's experience as a case study to assess the feasibility of sustainability indices in promoting Sustainable Investment in emerging markets.
CDP Global Supply Chain Report Has Been Relasead
Companies are increasingly recognizing climate risk in their supply chains. This year's sixth annual CDP supply chain information request generated its largest response yet: with 2,868companies, supplying 64 supply chain program member companies, disclosing their carbon emissions and approach to climate risk management. This is reflecting a rise in participation of more than a fifth since last year. However, the findings of the report indicate that investment in emissions reductions programs is going down.
The CDP Global Supply Chain Report 2014 presents a practical toolkit for overcoming environmental challenges across global supply chains. It is based on the climate change and, for the first time, water data reported through CDP by thousands of SMEs and major multinationals. Again for the first time, it's identified where emissions are generated within supply chains, and which sections of those supply chains are most likely to provide a return on investments in terms of reducing emissions and generating monetary savings. The report also reveals that the most important determinant of improved emissions reduction performance is collaboration across the supply chain.
Improving Corporate Governance: Europe's Largest Companies Will Have to be More Transparent About How They Operate
The European Commission welcomes today's adoption by the European Parliament of the Directive on disclosure of non-financial and diversity information by large companies and groups. Companies concerned will need to disclose information on policies, risks and results as regards environmental matters, social and employee-related aspects, respect for human rights, anti-corruption and bribery issues, and diversity on boards of directors.
The new rules will only apply to large companies with more than 500 employees, as the costs for requiring small and medium-sized enterprises (SMEs) to apply them could outweigh the benefits. In particular, large public-interest entities with more than 500 employees will be required to disclose certain non-financial information in their management reports. The scope includes approx. 6 000 large companies and groups across the EU.
The Directive provides for further work by the Commission to develop guidelines in order to facilitate the disclosure of non-financial information by companies, taking into account current best practice, international developments and related EU initiatives.
As regards diversity on company boards, large listed companies will be required to provide information on their diversity policy, such as, for instance: age, gender, educational and professional background. Disclosures will set out the objectives of the policy, how it has been implemented, and the results. Companies which do not have a diversity policy will have to explain why not. This approach is in line with the general EU corporate governance framework.
This Directive also represents a first step towards the implementation of the European Council conclusions of 22 May 2013 on the need for further transparency on tax matters and for ensuring country-by-country reporting by large companies and groups. The Commission supports this objective and will endeavour to deliver effectively on the review clause included in this legislation.
You can reach the more information about non-financial and diversity legislation details here.
CDP Global Forests Report 2013 was Released
CDP's forests program acts on behalf of investors to collect information from companies on the operational, reputational and regulatory risks and opportunities, and the value creation and erosion, resulting from their exposure to deforestation, which accounts for 10-15% of global CO2 emissions. The report provides insight into how companies are addressing their exposure to from the agricultural commodities responsible for most deforestation globally.
CDP Turkey 2014 Climate Change Webinar-Why disclose to CDP?

CDP 2014 Climate Change Webinar – Why disclose to CDP? was happened on 17th of April 2014. This webinar was organized by CDP and Corporate Governance Forum of Sabanci University. This webinar was designed to give practical guidance to companies that are responding to CDP 2014 Climate Change program.
You can reach the video of the webinar here.
Please find the agenda and presentations of webinar here.
"Promoting Sustainable Development: The Way Forward for a Sustainability Index in Turkey" Report is Published
The report summarizes the outcome of the Sustainability Index Istanbul Workshop, which was held on January 23, 2014 in Istanbul with the objective of facilitating a discussion between key stakeholders to ensure that the forthcoming Borsa Istanbul Sustainability Index will be beneficial to investors, issuers and the society.
The report builds on the "background note" published prior to the workshop in January 2014 to help the workshop participants to prepare. The note provides a background review, against which Borsa Istanbul's Sustainability Index Project unfolds, together with summary information on Turkey's stock markets, the regulatory framework on sustainability indices constructed in other emerging markets, and the key sustainability issues in Turkey that are material for investors and other stakeholders. The relevant parts of the background note are included in this report to serve as a reference for interested readers.
The purpose of the report is both to communicate the outcome of the workshop discussions and to offer our commentary regarding the issues highlighted during the workshop and our recommendations for moving forward.
Sustainability Index Workshop was Carried Out
'Sustainability Index Workshop', with the collabration of Sabancı University Corporate Governance Forum (SU CGFT) and United Nations Sustaniable Stock Exchanges Initiative (SSE) and the welfare fund of British Embassy, was carried out at Sabancı Center on the 23th of January, 2013.
Sabanci University (SU) is actively supporting the project by providing intellectual support and by helping the rating process undertaken rating firm EIRIS. To help the process benefit from investors' and investment managers' input, SSE Initiative and SU are jointly organized the workshop in Istanbul and bring together the CEOs of top local asset management firms and investor relations managers of selected firms listed in BIST together with international institutional investors and BIST team.
The opening speech of the workshop was held by Borsa Istanbul Executive Vice President Mustafa Kemal Yılmaz. Then the director of the SU-CGFT, Melsa Ararat made her speech. The main speech of the workshop was carried by the Amra Balic general manager of the BlackRock, which is the biggest assest management company in the world. After speechs, participatens of the workshop made three different roundtable. They discussed about the determined questions and the moderators of each table made presentations about the results from tables. At the end of the workshop Melsa Ararat made synthesis and the closing speech.
The Stock Exchange Istanbul (BIST), the Capital Markets Board (SPK), international and local portfolio managers, index rating agency EIRIS, investor relations officers that are in the BIST 30 index within and sustainability in the description leadership of the companies, UN Sustainable Stock Exchanges Initiative (SSE), the International Finance Corporation (IFC), the British Embassy, Turkey Corporate Governance Association (TKYD), Turkey Capital Market Intermediary Institutions Association (TSAKB), Turkey Investor Relations Association (TÜYİD), Turkish Industrialists' and Businessmen's Association (TUSIAD), Sustainable Development Association (SKD), the Central Registration Depository Institution (MKK) and the UN Global Compact network representatives of Turkey took place as workshop participant.
The results from the workshop will be published in a report by Sabancı University Corporate Governance Forum.
Please find the interview of SU-CGFT coordinator Melsa Ararat about Sustainability Index here.
Please, also watch the live broadcast that UN SSE coordinator Anthony Miller and Borsa Istanbul Executive Vice President Mustafa Kemal Yılmaz has talked about Borsa İstanbul Sustainability Index.
GRI Presented the New G4 Reporting Guidelines to the Sustainability Reporting Community and Other Stakeholders in Turkey
Global Reporting Initiative is proud to present the new G4 guidelines in Turkey, Ms. Juliette Gaussem (Network Relations Coordinator-GRI) introduced G4; its focus on materiality, new design of Disclosures on Management Approach, and new Disclosures.
Event Program:
13:00 - 13:05 Welcome

Ozlem Yalcin, Public Relations Vice President, Akbank

13:05 - 13:20 Trends in Sustainability Reporting Within the Framework of the Universal Principles

Dr. Yilmaz Arguden, Chairman, UN Global Compact Turkey

13:20 - 14:45 GRI G4 content presentation, main features of G4, including Q&A from the audience

Juliette Gaussem, Network Relations Coordinator, GRI

14:45 - 15:15 Networking break

15:15 - 15:30 Sustainability Journey

Tuba Atabey, Sustainability Consulting Turkey Partner, SUSTAiNOVA

15:30 - 16:25 Panel discussion: First experiences and perceptions of the G4 Guidelines, including Q&A from the audience
Panelists:
Mehmet Hacikamiloglu, General Manager, Cimsa

Hakan Gurdal, General Manager, Akcansa

Aykan Gulten, Corporate Affairs Manager, Coca-Cola Icecek

Moderator: Mirhan Koroglu Gogus, Project Manager, CDP Turkey

16:25 - 16:30 Wrap up & closure

16:45 - 17:45 Exclusive G4 content session for Organizational Stakeholders (OS) of GRI only.
Mercator-IPC Feloow Ömer Lütfi Şen Published a Report on "A Holistic View of Climate Change and Its Impacts in Turkey"
The report offers a compilation and analysis of existing data and studies on climate change in Turkey. Through change maps and projection scenarios, Şen elaborates on how changes in Turkey's climate will affect significant sectors such as agriculture, energy, and tourism. The report also provides policy makers with viable recommendations on the mitigation of the negative consequences of climate change.
Please click here to view the report.
CDP Became a Part of the Sustainability Platform Which is Established by an Initiative of Istanbul Stock Exchange
The platform also includes the World of Business and Sustainable Development Society (SKD), the Banks Association of Turkey (TBB), Working Group on the Role of the Financial Sector on Sustainable Growth, Corporate Governance Society of Turkey (TKYD), Capital Market Brokers' Association of Turkey (TSPAKB), TÜSİAD, Investor Relations Society (TÜYİD) and UN Global Compact Turkey Network.
Turkey's "Sustainability Platform" was established among nongovernmental organizations working on sustainability and supporting sustainable development, initiatives related to the subject, and other stakeholders.
Established by an initiative of the Istanbul Stock Exchange, the platform aims to create synergy among sustainability efforts of different stakeholders. The Platform also seeks to improve media awareness of sustainability, create a better understanding of sustainability risks, and to create a common perspective towards the subject.
Sabancı University Corporate Governance Forum and 'Carbon Disclosure Project (CDP)' Turkey Director Melsa Ararat said, "To the extent that sustainability is the common goal of companies, investors and stock exchanges, economic development will be egalitarian, comprehensive and sustainable. We are impressed with the support given by Istanbul Stock Exchange to sustainability, and are prepared to assist the work of the platform from a scientific perspective both with our expertise in corporate governance and the knowledge we gained as the implementer of the Carbon Disclosure Project in Turkey.
CDP Turkey 2013 Climate Change Report Launch and CDP Turkey 2013 Climate Leaders Award Ceremony

Implemented by the Sabancı University Corporate Governance Forum with the sponsorship of Akbank and report sponsorship of EY (Ernst & Young) Turkey, CDP (Carbon Disclosure Project) Turkey revealed its 2013 report on November 26, 2013. The event included a keynote speech by Coca-Cola VP of Environment and Water Resources Jeff Seabright, and the presentation of CDP Turkey Climate Change Leaders awards.
CDP Turkey is being implemented since 2010 by the Sabancı University Corporate Governance Forum with the sponsorship of Akbank and report sponsorship of EY Turkey. CDP Turkey 2013 Report was revealed in an event at the Sabancı Museum – the Seed on Tuesday, November 26, 2013. As a platform for companies to disclose their climate change strategies to international corporate investors, CDP is considered the world's most prestigious and comprehensive environmental initiative.
CDP Turkey 2013 Climate Change Report is an analysis of responses given by Turkish companies to the CDP and a summary of climate change-related trends in Turkey with forewords by United Nations Environment Program Finance Initiative (UNEP FI) Chairman David Pitt-Watson, CDP CEO Paul Simpson, and Akbank President Suzan Sabancı Dinçer, CDP Turkey 2013 Report received responses from 28 companies, which is an improvement of 65% compared to the 2012 figure of 17.
Please click here for more information about launch event
Sustaniable Business Summit 2013 was Organized
Sustainable Business Summit 2013: Supply Chain took place with a great audience interest at Four Seasons Bosphorus Hotel on 2nd October. The summit was organized in international collaboration with CDP, Global Compact Turkey, CSR Europe and UNIDO. SBS aims the versatile integration of sustainability into the business world and to spread sustainable supply chain best practices. One of the key note speakers was the supply chain director of Sonya Bhonsle and she made a speech emphasizing the business value of supply chain sustainability. She drew the audience's attention to climate change risk management and shared the achievements of several good examples.
CDP Turkey is at Green Business 2013
The business leaders are meeting in Green Business 2013 to shape the future of business world, to discuss the most recent developments and to create new thinking systems.
Green Business 2013 with the theme 'Time for Change' will be on 17th-18th September at Swissotel İstanbul. Green Business 2013, which has taken heart from the last years of the greatest achievements, brings sustainable business leaders and global leaders together for the 5th time.
Melsa Ararat, Director of CDP Turkey, will moderate ''Sustainable Capital Markets and Finance'' session on the first day of the conference.
At the second day of the conference; Mirhan Köroğlu Göğüş, Project Manager of CDP Turkey, will make a presentation and moderate four sessions under "Water and Carbon Management" side event.
For more information about Green Business 2013 please click here.
CDP Global 500 Climate Change Report 2013 Released
On September 12, during Global Climate Forum; CDP Global 500 Climate Change Report 2013 has been released. You can download Global 500 Climate Change Report 2013

here

.

CDP 2013 Responses Process Ended
CDP response process which was continuing since February 2013 ended. E&Y team is grading the responses from CDP respondent companies. After grading process has finished, CDP will start to work for preparation of CDP Turkey 2013 Climate Change Report. This year, including 39 responding companies to CDP; according to last year results, there is a big increase in the rate of CDP responding publicly-held companies (65%).
CDP Turkey Report will be announced on November.
CDP Global Climate Forum on 12th September
Main theme for the Forum is "Driving economic growth without increasing carbon emissions". On September 12, CDP will host its 2013 Global Climate Forum. Leading corporate, government and investor decision makers will debate solutions to achieve large scale economic growth without increasing carbon emissions. The Forum will bring inspirational speakers together from across the globe via Cisco TelePresence for a workshop-style event to be broadcast live online. These experts will propose solutions for emerging and established economies, sectors and industries. Ideally placed just two months ahead of the UN Framework Convention on Climate Change (COP19), the Forum will also create a 'call to action' for international leaders.
Take action, join us and be part of the debate this year by using #CDPforum in advance of the event and on the day, when we will feed questions through to the panel.
You can find the registration details here.
CDP, CDSP and IIRC Announce Colloboration to Accelerate Integrated Reporting
18th July 2013: CDP, the Climate Disclosure Standards Board (CDSB) and the International Integrated Reporting Council (IIRC) today announce an alliance that will achieve greater momentum towards the evolution of better corporate reporting, in order to enable investors and other decision-makers to accelerate a transition to a resource-efficient economy.
The parties share a vision of corporate reporting for the 21st century in which harmonization and clarity of corporate reporting frameworks, standards and requirements that drive coherence, consistency and comparability lead to improved efficiency and effectiveness in corporate reporting practices. The Memorandum of Understanding (MoU) cements a powerful collaboration that demonstrates their complementary roles, on the basis that reporting on the use and depreciation of natural capital - including carbon, energy, water and forest commodities, is integral to integrated reporting (<IR>) and a key pillar on which <IR> is based.
CDP's chief executive officer Paul Simpson says: "CDP operates on the principle that capital markets need high quality information on corporate impacts on carbon, water and forests. Partnering with the IIRC is a natural step for us as we work to catalyze the adoption of this data into mainstream filings.
"Both organizations will work to promote the global harmonization and clarity of corporate reporting requirements in ways that drive consistency and comparability. This will improve the effectiveness of corporate reporting practices, benefitting companies and investors alike."
Paul Druckman, chief executive officer of the IIRC says: "The express intention of the IIRC to work collaboratively with other reporting initiatives, frameworks and innovations is to provide greater clarity to the market and achieve greater momentum towards the adoption of Integrated Reporting. <IR> is not intended to supplant other non-financial disclosures, but to utilize these disclosures, through the application of the principles of <IR>."
The IIRC's draft Framework relies on existing reporting standards, guidelines and approaches, such as the Climate Change Reporting Framework, which was developed by CDSB, a CDP special project, in conjunction with a range of experts, including those from the global accounting profession.
Rick Samans, chairman CDSB, states: "When released, the IIRC Framework will provide organizations with the high-level, principles based information they need to prepare communications on how they create value. CDSB's Framework provides part of the structured reporting environment that will support the principles- based <IR> Framework."
A report from CDP AND wwf: Uncover Billions in Hidden Profits From Climate Change Action
The 3% Solution: Driving Profits Through Carbon Reduction, released today by World Wildlife Fund (WWF) and CDP, provides a groundbreaking assessment of how companies can reap big profits from cutting their carbon emissions, simultaneously helping the world avoid runaway climate change.
The analysis demonstrates that if US businesses act now to reduce emissions by an average of 3% annually, they can save up to $190 billion in 2020 alone, or $780 billion over 10 years.
The report shows that 4 out of 5 companies from the S&P 500 who report their emissions to CDP see bigger financial returns on their carbon reduction investments than their overall capital investments, making reallocation of their capital expenditures a sound business decision.
To unlock the billions of dollars in cost savings, on average the US corporate sector would need to invest 3 to 4% of their capital expenditures each year on low-risk, profitable carbon reduction projects.
To help companies reach these goals, the report also includes an innovative Carbon Target and Profit Calculator, which provides a guide for companies to set emission reduction goals and to claim their share of the savings.
The analysis also introduces the Carbon Productivity Portfolio, a set of five actions built upon the experiences and successes of leading companies that form a new strategic approach to maximizing business value and carbon reductions.
WWF and CDP are now recommending that companies interested in capturing these savings do the following:
1.Run the calculator and set or revise a carbon reduction target to claim the company's share of the savings
2.Reallocate capital to deliver better returns at lower risk
3.Translate the savings to the company's bottom line
The report is built upon rigorous analysis by several of the world's leading consulting firms, namely McKinsey & Company, Point380 and Deloitte LLP. In addition the report draws upon data reported to CDP from major U.S. businesses, case examples from WWF's Climate Savers program in the US, dozens of interviews with corporate leaders, and the real-world experience of consultants working directly with businesses to cut costs and shrink their carbon footprints.
Shaping the Future of Financial Reports: 18000 Large Companies Could be Impacted by European Reportin Directive and UK Mandatory Reporting Legislation
This June, the UK government is introducing regulations that will require UK quoted companies to report their greenhouse gas (GHG) emissions publicly. UK incorporated companies quoted on the London Stock Exchange Main Market are expected to be required to list their GHG emissions in their annual reports for financial years ending on or after 30th September 2013.
In Europe, a new directive from the European Commission (EC) proposes an amendment to existing accounting legislation to mandate the reporting of social and environmental information in the annual reports of up to 18,000 large European companies. It is imperative that this legislation is now progressed without being weakened. Further, it should be strengthened to foster consistency of environmental information for investors. This is a view held by the Climate Disclosure Standards Board (CDSB), a CDP special project.
Aviva Investors expand on this point, recommending that the EC go further to promote full integration of non-financial information in annual reports, include market oversight at the AGM, for example – and cite CDP guidance and CDSB.
CDP and CDSB are members of the Aviva-led Corporate Sustainability Reporting Coalition, comprising investors with assets under management of approximately US$2 trillion, financial institutions, professional bodies, NGOs and other relevant stakeholders. The Coalition calls on European policy-makers to work toward an agreement on sustainability reporting so that companies can be part of the solution towards a sustainable future.
Wealthier, Healthier Cities Emerge From Climate Change Initiatives Finds CDP 2013 Cities Report
While national governments struggle to establish an agreed global climate deal, many of the world's largest cities have been taking action to combat the effects of a changing climate. As a result, these cities are cutting their carbon footprint, reporting annual energy savings of up to US$11 million, and their residents are benefitting from healthier living and better business environments. These and other findings are published at 20.06.2013 in a new report from CDP.
Wealthier, healthier cities, uses analysis by AECOM (Architecture, Engineering, Consulting, Operations and Maintenance), and is presented together with CDP's long-standing partner, C40 Cities Climate Leadership Group (C40). AECOM is a global provider of professional technical and management support services to a broad range of markets, including transportation, facilities, environmental, energy, water and government. The report is based on the carbon and water strategies disclosed through CDP's cities program by 110 urban areas spanning every inhabited continent. It shows that savings from improved energy efficiency dominate the advantages that cities are capitalizing on as they respond to climate change and related impacts such as rising energy costs, with nine cities reporting collective savings of US$40 million.
Further, the initiatives that cities are taking to reduce emissions across their cities are likely to boost the economy, with 62% of these actions having the potential to attract new business investment. Sao Paulo, Brazil's most populous city, has already seen the emergence of new industries related to clean technology, including electric and ethanol powered vehicles. Greater Manchester, one of the UK's largest urban areas, has seen its low-carbon and environmental goods sector grow 4%, despite the ongoing recession in the UK. Furthermore, 55% of the cities are undertaking emissions reduction actions that promote walking and cycling, directly and indirectly improving public health.
CDP is an NGO providing cities, companies and investors with the only global environmental disclosure system, driving corporate and government action to transition to sustainable economies. Conor Riffle, head of CDP's cities program says: "These leading cities are enjoying multiple paybacks for their economies and communities. National governments should pay close attention."
"Climate change is the biggest threat to the future development of human civilization and poses a huge challenge for cities like London," says Mayor of London, Boris Johnson, whose office helped to launch the report today in London, "But as London and the other cities taking part in CDP's program know, fighting climate change by making significant CO2 reductions can result in billions of pounds of energy savings as well as healthier living and working environments — a clear win-win."
Nearly every city in the C40 network of global cities taking action on climate change has participated in the CDP program this year, with many of them leading the way in reporting to CDP for a third consecutive year. Individual responses from the cities are now available on the CDP website, where the full report can be freely downloaded.
Companies to benefit as CDO and GRI Colloborate to Harmonize Reporting Frameworks
By working together to promote the harmonization and clarification of corporate sustainability reporting guidelines, standards and frameworks, CDP and GRI will improve the consistency and comparability of environmental data, making corporate reporting more efficient and effective and ease the reporting burden for companies.
This is an important step toward global standardization of corporate natural capital disclosure to capital markets. By enabling more efficient valuation of natural resources in this way, both organizations hope to accelerate progress to a resource-efficient economy.
Ernst Ligteringen, chief executive of GRI said: "The partnership between GRI and CDP will help bring greater clarification and alignment to reporting and enhance its value for a range of information users, including investors. The G4 Guidelines have seen full alignment with CDP on GHG emission indicators. Our collaboration will make an important contribution to rebuilding the architecture of corporate market information related to sustainability."
CDP's chief executive officer Paul Simpson said: "We share the common goal of driving investment decisions and corporate actions to value and protect the Earth's natural capital. This alignment will enable companies to elicit the maximum benefit from their reporting efforts and encourage more sustainable decisions."
The MOU details commitment across all levels by both CDP and GRI and includes practical areas for collaboration, such as communications, information exchange and the creation of a joint work plan.
The MOU was signed by both parties on 24 May 2013 at the 2013 GRI Global Conference on Sustainability and Reporting that took place on 22-24 May 2013 in Amsterdam, The Netherlands.
CDP Turkey 2013 Training Webinar was Held
6 June 2013: CDP, the only global platform for companies and cities to disclose and manage their environmental impacts, and Global Reporting Initiative (GRI), providers of the most widely used comprehensive sustainability reporting guidelines in the world, have signed a memorandum of understanding (MOU) that will see the two non-profits work together to align areas of their reporting frameworks.
CDP Turkey training webinar was held on 28th of March, 2013. Webinar was organized to inform the Turkish companies who responded CDP Turkey 2013 Climate Change Programme. The topics that were discussed in this seminar: training for the first time responders, CDP Rating Methodology, how to use ORS, CDP Climate Change questionnaire, verification of the CDP responses.
You can find the agenda and presentations here.
You can find the video of the webinar here.
From the Carbon Disclosure Project to CDP
It is over ten years ago that CDP began to pioneer a global disclosure system for companies to report their environmental impacts and strategies to investors. In that time, CDP has accelerated climate change and natural resource issues to the boardroom and has moved beyond the corporate world to engage with cities and governments. The CDP platform has evolved significantly, supporting multinational purchasers to build more sustainable supply chains. It also enables cities around the world to exchange information and take best practice action to tackle energy and natural resource issues and build climate resilience. Further, we assess the climate performance of companies and drive improvements through shareholder engagement.
Expanding to cover a wider spectrum of the earth's natural capital, specifically water and forests, alongside carbon, energy and climate, we outgrew our former name of the Carbon Disclosure Project. Changing our name to CDP, as we were already known to many, was a natural step to take as we continue to catalyze action and respond to the needs of the global marketplace. We adopted a bolder, more dynamic look and logo to reflect the scale of the work we must undertake in the coming years to realize truly sustainable economies.
• Over 4,100 organizations, including 81% of the world's largest public companies, use CDP to disclose their impacts on the environment and natural resources to stakeholders;
• 722 investors representing US$87 trillion, that's more than half the world's invested capital, request corporate climate data through CDP;
• We now operate in over 60 countries across six continents and engage with governments globally.
Dow Jones Sustainability Indices DJSI, RobecoSAM, Will Ask the Same Questions That Developed by CDP
As part of its annual corporate sustainability ranking process, RobecoSAM, the company behind the Dow Jones Sustainability Indices (DJSI), produced with S&P Dow Jones Indices, will now ask public companies the same climate change questions as those developed over the past decade by CDP, provider of the only global environmental disclosure system and producer of the annual Climate Disclosure and Climate Performance Leadership Indexes (CDLI & CPLI).
This collaboration will improve the comparability of sustainability data in the global market and will simplify the process for companies answering multiple requests for environmental information.
Specifically, to inform the climate change aspects of its annual Corporate Sustainability Assessment, RobecoSAM has aligned seven of its Climate Strategy questions with corresponding questions asked by CDP on behalf of 722 investors representing more than US$87 trillion. This will significantly reduce the workload for the 90% of DJSI participating companies which also respond to the request for climate change information through CDP.
A Third of the World's Invested Capital Calls for Corporate Environmental Data Through the CDP
The CDP on February, 11, 2013 in London announced that a record 722 investors with US$87 trillion in assets — around a third of the world's invested capital1 — have asked more than 5,000 public companies to disclose their carbon emissions and climate change strategies through CDP. Additionally, there has been strong growth in the number of investors asking listed companies to submit water and forest information through CDP, further demonstrating that natural capital is increasingly understood to be of material value to the global market.
The news accompanies the launch of the 2013 CDP disclosure season. More than 80% of the largest listed companies used the CDP system for climate accountability in 2012. Requests will this year go to over 5,000 listed companies around the world.
CDP already holds the biggest collection globally of self-reported corporate climate data. The Forest Footprint Disclosure Project (FFD), pioneered by the Global Canopy Programme, is merging with CDP to provide companies and investors with a single source of information for the interrelated issues of climate, water and forests, making CDP the world's most comprehensive system for natural capital disclosure.
2013 highlights:
• Record number of investors become signatories to CDP's climate change program up 10% from last year to 722 signatories with US$87 trillion in assets (655 investors with US$78 trillion in 2012);
• Strong growth in investor interest in the Americas, with Brazil's Banco do Brasil Previdência the largest new signatory (assets of US$1,081 billion);
• Global spread with the first signatories from Taipei, including Cathay Financial Holding and Fubon Financial Holdings;
• Heightened investor engagement: Carbon Action, a CDP initiative to accelerate company action on carbon reduction in high emitting industries, has seen more than a fivefold increase in its investor signatories since inception in 2011.
• Growing awareness of water as a critical business issue with signatories to CDP's water program almost quadrupling in just three years, reaching 530, 13% up from last year, with $US57 trillion in assets (137 investor signatories in 2010);
• Twice as many investors investigating exposure to forest risk commodities. The number of signatories to CDP's forests program has more than doubled, reaching 184 with US$13 trillion in assets.
Companies have until 30th May 2013 to report their emissions and emissions-reducing activities to CDP, and 27th June to submit water and forest information.

CDP Turkey 2012 Results were Announced
Carbon Disclosure Project, carried out by Sabanci University Corporate Governance Forum since 2010, is in its third year in Turkey with the support of Akbank. Carbon Disclosure Project is regarded as the most prestigious and widespread environmental initiative in the world, and offers companies to disclose their greenhouse gas emissions and climate change strategies to institutional investors.
CDP Turkey 2012 report, prepared by Sabanci University CDP team in collaboration with Ernst & Young Turkey, analyses company responses from Turkey and summarizes climate change related trends in Turkey. The forewords are written by Turkey's Deputy Prime Minister Ali Babacan, Akbank's board chairman Suzan Sabanci Dincer and CDP's CEO Paul Simpson. In 2012, 32 companies from Turkey responded to CDP's information request, a significant increase from 20 respondents in 2011. Responses from non-ISE-100 companies in 2012 contributed to this increase in response rates.
Aviva Investment Chairman Paul Abberley, and CDP Turkey Director and Sabancı University faculty member spoke at the launch event for CDP Turkey 2012, following the opening speech by Akbank's General Manager Hakan Binbaşgil. In his speech, Paul Abberley emphasized the importance of Rio+20's outcome document 'The Future We Want' and its expected influences on current sustainability and environmental reporting frameworks. Following Abberley, Melsa Ararat summarized CDP Turkey 2012 Report findings and announced CDP Turkey Disclosure and Performance Leaders.
Aviva Investment led a coalition of institutional investors that lobbied for the inclusion of Paragraph 47 on sustainability reporting in Rio+20 outcome document, 'The Future We Want.' Chairman Paul Abberley said that Aviva Investment believes in the importance of better disclosure on environmental, social and governance issues as part of company strategies to allow better investment decisions. He believes that the Carbon Disclosure Project plays an important role for achieving better sustainability reporting and strengthening the relationship between sustainable economic development and financial markets.
CDP Disclosure and Performance Leaders in Turkey received their awards in the event. Arçelik's General Manager İsmail Hakkı Sağır accepted CDP Turkey 2012 Disclosure Leadership award on behalf of his company from Nihat Berker, President of Sabanci University. Garanti Bank received CDP Turkey 2012 Performance Leadership award. Garanti Bank Executive Vice President Ebru Dildar Edin accepted the award on behalf of her company, presented to her by Ernst & Young Turkey's Head of Assurance Services Dilek Çilingir.
Full report is accessible from here.
CDP's Cate Lamb at the Water Footprint Webinar
CDP's Cate Lamb presented CDP Water Disclosure Report 2012 and its findings at the GTE and ERM Water Footprint Webinar on January 9th 2013.
Representatives from Ministry of Forest and Water Affairs, Coca Cola İçecek, GTE and ERM presented at the webinar. In her presentation, Cate Lamb said that investors are increasingly aware of water risks and demanding better disclosure of water risk management processes and water performances from listed companies. Many companies experience detrimental water-related business impacts such as business interruption and property damage from flooding, with associated financial costs for some companies as high as US$200 million.
Lamb said that CDP's analysis reveals water management trails climate change on the boardroom agenda, despite significant strategic opportunities for companies to improve brand performance, sale of new products or services, and cost savings. She emphasized the importance of collective action on river basin management and water efficiency when addressing risks and opportunities given the complexity and scale of water challenges. Assessing and addressing exposure to water-related supply chain risk should be an important part of such collective work.
The 'Group of Friends on Paragraph 47' Invıtes Other Governments to Colloborate CDP's Cate Lamb at the Water Footprint Webinar
In Rio de Janeiro, on June 2012, Brazil, Denmark, France and South Africa formed the 'group of friends on paragraph 47' to advance sustainability reporting in support of Paragraph 47 of The Future We Want – the outcome document of Rio+20.
Earlier this month, the group published the 'Charter of the Group of Friends of Paragraph 47 on Corporate Sustainability Reporting.' In the spirit of Paragraph 47, we invite other Governments that share the vision expressed in this Charter. The Carter is available from here.
The 'Group of Friends on Paragraph 47' invites other Governments to join them to collaborate in building the future we want. Interested parties should contact United Nations Conference on Trade and Development (UNCTAD) secretariat from isar@unctad.org.

Carbon Disclosure Project and Forest Footprint Disclosure Project Have Merged
CDP and Forest Footprint Disclosure Project merge to create world's largest natural capital disclosure system covering carbon, water and forests. London , June 12th 2012:The Carbon Disclosure Project (CDP) and Global Canopy Programme (GCP) today announced an alliance that will see GCP's Forest Footprint Disclosure Project (FFD) incorporate CDP over the next two years. For the first time corporate disclosure on the earth's atmosphere, water and forests will come under one roof, resulting in the world's largest and most comprehensive natural capital disclosure system.
A major focus of the Rio+20 Earth Summit will be how to account for the way businesses use the planet's natural capital as the world seeks a common pathway to a green economy Toda's announcement marks an important step towards greater convergence of environmental data, helping busienesses and their investors better understand how they impact or use critical natural capital in their operations and supply chain. This will form an important part of valuing and managing business processes in the global green economy.
A lot of directors thinks that the relationship between natural capital and green economy such as Paul Simpson (chief executive officer at CDP), Andrew Mitchell (executive director of GCP and chairman of FFD), Ian Cheshire (group chief executive of Kingfisher), Freddie Woolfe (manager - corporate engagement, at Hermes Equity Ownership Services) and Matthew Hale (environment executive, Europe and Emerging Markets, Bank of America Merrill Lynch).
For more information about CDP and GCP's Forest Footprint Disclosure Project click here.
CDP Global Water Disclosure Report 2012
Water is the lifeblood of the global economy. In 2012 CDP Global Water Report calls for action to understand the business risk from water related issues and implement strategic plans to help mitigate these risks and emphasizes the role companies should play in mitigating risks.
There is a sharp rise in company reports of detrimental impacts from drought and other water-related issues, yet little change in the number of companies with board level oversight of water strategies and no increase in the number of corporations providing transparent water-related risk assessments to investors. These are some of the key findings from global analysis of the largest listed companies released today by the Carbon Disclosure Project (CDP).
However, despite increased awareness and activity among some respondents, the Global 500 response rate is static at 60% (191 companies); disappointing given the weight of investor interest in this issue and the increasing proportion of companies reporting water-related impacts, risks and opportunities. The Health Care sector has the highest response rate (77%) while Energy lags for the 2nd year running at just 44%; surprising considering this sector reports the highest exposure to risk.
This report is based on analysis of 185 responses received by August 6, 2012 and investigates how companies are using collaborative approaches to solving some of the most complex water-related problems.
This year's respondents indicate that collective action will continue to be featured prominently in companies' water strategies and, in turn, overall business strategies. As the strategic importance of water-related issues grows it is anticipated that more Global 500 companies will leverage collective action in response.
CDP Global Water Report is available to download from here.
32 Companies in Turkey Responded to CDP's Information Request in 2011
Compared to last year, the number of respondents to CDP Turkey increased by 60%.In 2011, 20 companies in total responded to CDP including ISE-100 companies and voluntary companies. In 2012, number of respondents increased to 32.
Increase in responses from production industry in particular will help private sector's effect on climate change strategy become visible through the mediation of CDP.
The preparations for the CDP Turkey 2012 report has already started and will include a broader range of sectors. As in 2011, a team of E&Y Turkey and Sabanci University will prepare the report, which will be launched in November 2012.
All respondent companies will be scored for Disclosure and Performance based on CDP scoring methodology.
CDP Turkey Team Attended Rio+20 Conference
CDP Turkey, launched by Sabanci University Corporate Governance Forum attended the Rio +20 Conference in Brazil and was represented by the Director Melsa Ararat and Project Manager Mirhan Köroğlu.
CDP Turkey team attended meetings related to both CDP and Corporate Governance Forum missions. One of the most important outcomes for CDP Turkey and CDP Global was the Paragraph 47 inclusion on governments' support for sustainability reporting as part of "The Future We Want" that was signed by all parties.
CDP Cities 2012 Global Report Has Released
In a report released in June by CDP 82% of cities identify the potential for economic growth as a result of climate change mitigation and adaptation. More than half the participating cities identify opportunities to create green jobs and new business initiatives. Despite the substantial prospects for green growth from tackling climate change, just under a third of cities expect new sources of funding for tackling climate change.
Measurement for Management: CDP Cities 2012 Global Report shows that reporting cities cite a wide variety of financial drivers for climate change action, with nearly a third of cities expecting improved energy efficiency of their operations and a fifth recognizing the increased energy security that action on climate change affords. However, job creation and industry growth are by far the most prominently cited opportunities with 55% of cities anticipating the creation of green jobs and 53% predicting new business from clean tech industries or the development of new low-carbon economy technologies.
All the reporting C40 cities and 81% of the total 73 disclosing cities are responding to the urgency of climate change by implementing range of carbon emissions reductions activities, from education programs to waste management. With 64% of these initiatives funded through generak municipal funds, cities, less than 1% of city-wide emissions reductions activities reported by cities are financed by world development banks.
Please find the CDP Cities 2012 Global Report in the following link.
Carbon Disclosure Project Publishes Its Fourth Supply Chain Report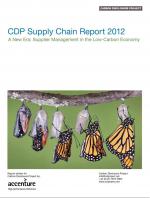 Companies yet to realize significant emissions reductions across their supply chains despite opportunity for cost savings, finds Carbon Disclosure Project and Accenture. Despite improving their own carbon performance, multinational companies are not yet demonstrating significant emissions reductions in their supply chains, according to the research published by Carbon Disclosure Project (CDP) and Accenture. The report on 49 CDP member companies, including L'Oréal, Philips and Wal-Mart, and more than 1,800 of their suppliers revealed that while 43% of responding companies have achieved year-on-year emissions reductions, only 28% of suppliers have done so.
A New Era: Supplier Management in the Low-Carbon Economy is CDP's fourth annual global study of the preparedness of company supply chains for climate change impacts. The gulf between company emissions and those of their suppliers exists despite the fact that 39% of responding companies have realized monetary savings from their own emissions reductions activities and over a third (34.5%) of responding companies have benefited from new revenue streams or financial savings as a result of their suppliers' carbon reduction activities.
The report reveals that leading businesses are changing their operating models. It shows a marked rise in the proportion of responding companies with climate change strategies that incorporate procurement guidelines (90%, up from 74% in 2009 and 79% in 2010) and that 67% of responding companies include carbon management in procurement policy.
The proportion of responding companies that claim they will deselect suppliers who fail to meet formal environmental criteria within five years has more than doubled from 17% in 2009 to 39% in 2011 and two thirds (63%) of responding companies are also investing in training their procurement staff in supply chain carbon management, a dramatic rise from 26% in 2009 and 41% in 2010.
Please find the CDP Supply Chain Report 2012 in the following link.
"Caring for Climate" Initiative
Endorsed by nearly 400 companies in 65 countries, Caring for Climate is the UN Global Compact and UN Environment Programme's initiative aimed at advancing the role of business in addressing climate change. Caring for Climate signatories commit to communicate on an annual basis on progress made in implementing the five areas of commitments as outlined in the Caring for Climate Statement.
Caring for Climate recommends utilizing the Carbon Disclosure Project (CDP) reporting process to develop the COP Climate, as the CDP currently stands as a more rigorous tool in reporting GHG emissions and climate change strategies on an annual basis. The Global Reporting Initiative (GRI) and the Global Compact Advanced Communication on Progress (COP) can also be used.
Publicized CDP Questionnaires allow companies to completely fulfill the aforementioned criteria of the COP-Climate.
Signatories who are submitting CDP questionnaires as their COP-Climates are also suggested to send a PDF document or an active link to the publicized report to the Caring for Climate Secretariat.
More information on how to join Caring for Climate, you can visit the link.
Carbon Disclosure Project Conducted the Workshop on Sectoral Approaches to Climate Change
Within the context of CDP's project about expanding its scope, which was put into practice with the support of British Government, the Workshop on Sectoral Approaches to Climate Change was carried out in collaboration with Istanbul Chemicals and Chemical Products Exporters' Association (IKMIB).
Carried out in Turkey by Corporate Governance Forum of Sabanci University, under the sponsorship of Akbank and reporting sponsorship of Ernst & Young Turkey; Carbon Disclosure Project (CDP) started a new project with the support of British Government's Prosperity Fund in the second half of 2011. The new project aims to increase voluntary participation of CO2 intense firms to CDP, with a sectoral perspective.
As part of this project, Carbon Disclosure Project organized the Workshop on Sectoral Approaches to Climate Change in collaboration with Istanbul Chemicas and Chemical Products Exporters' Association (IKMIB) at the IMMIB Conference Room on February 27, 2012.
After informative presentations took place in the first half of the workshop, the studies on "Best Practices Booklet" was presented in the second half. This booklet is being prepared in the context of CDP's project about expanding its scope which was put into practice with the support of British Government, and the booklet focuses on sectors. The presentations were followed by roundtable meetings where the companies were divided into groups according to their sectors.
Carbon Disclosure Porject Has Been Awarded the Top Accolade in the SME&NGO Category of the Zayed Future Energy Prize
In recognition of its work to catalyze the transition to a profitable low carbon economy, drive greenhouse gas emissions reduction and sustainable water use by business and cities, the Carbon Disclosure Project (CDP), which is carried out in Turkey by Corporate Governance Forum of Sabancı University, has been awarded the top accolade in the SME & NGO category of the Zayed Future Energy Prize.
Now in its fourth year, the Zayed Future Energy Prize has swiftly established itself as one of the most prestigious awards for modern solutions that will meet the challenges of climate change and forms one of the main features of the World Future Energy Summit, held in Abu Dhabi. Designed to celebrate and encourage leadership and innovation in sustainable development and to establish more effective long-term approaches to energy consumption, the Awards attracted 1,103 nominations and 425 submissions from participants in 71 countries.
CDP is a global independent not-for-profit organization that works to prevent dangerous climate change and protect natural resources such as water through the efficient allocation of capital in order to create long-term prosperity. Working closely with investors, business, cities and governments, CDP provides a transformative global system for thousands of organizations around the world to measure, disclose, manage and share environmental information and reduce their energy consumption, carbon emissions and water use.
"We are delighted to be honored with a Zayed Future Energy Prize," said Paul Dickinson, CDP's executive chairman, "We have been working hard for over a decade to reduce greenhouse gas emissions around the globe by using the power of information. We believe we are catalyzing real change across the global business system through measurement, reporting, transparency and analysis, creating the win-win scenario of profitable, low carbon growth. This award is testament to the role that a green economy can play in facilitating sustainable economic prosperity and CDP's role in driving that."
Over 3,700 companies and cities across the world's largest economies have been influenced by CDP to measure and disclose their greenhouse gas emissions, climate change risks and water strategies. The largest collection of self-reported climate change data in the world is held by CDP. By putting this insight at the heart of business, investment and policy decision making, CDP is enabling corporations and governments to mitigate risk and capitalize on opportunities stemming from climate change. This information also allows the investor community and the public to understand which companies and cities are acting most responsibly in relation to climate change and water use and to make decisions that drive action towards a more sustainable world.
Melsa Ararat, the director of Sabancı University Corporate Governance Forum of Turkey and the director of Carbon Disclosure Project, stated, "This award will strengthen the role of Carbon Disclosure Project in its battle against climate change for Turkey and the world".
Carbon Disclosure Project is Expanding its Scope with the Supporty of British Government's Prosperity Fund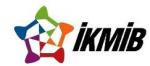 Within the context of expanding its scope, Carbon Disclosure Project – Turkey initiated a cooperation program with Istanbul Chemicals and Chemical Products Exporters' Association (IKMIB). As a part of this program, the two institutions organize a training event in 25th of January.
Carried out in Turkey by Corporate Governance Forum of Sabanci University, under the sponsorship of Akbank and with the reporting support of Ernst & Young Turkey since the beginning of 2010; Carbon Disclosure Project (CDP) is expanding its scope.
CDP – Turkey started a new project with the support of British Government's Prosperity Fund in the second half of 2011. The new project aims to increase voluntary participation of CO2 intense firms to CDP, with a sectoral perspective.
Within the context of its expansion project, CDP has recently initiated a cooperation program with Istanbul Chemicals and Chemical Products Exporters' Association. The program will consist of a group of activities to raise awareness on risks of climate change and their management. In this context, the two institutions organize a training in the 25th of January, where the participants will be provided with detailed information on CDP, ways of responding CDP Information Request and the recent draft regulation of Ministry of Environment and Urbanization on MRV (Monitoring, Reporting and Verification) of GHG emissions. The training event, which will take place with the support of Bureau Veritas, is expected to involve around 150 participants.
Every year, CDP sends an information request to the firms listed in ISE – 100 index in Turkey. However, the Project is open to voluntary participation of unlisted firms, which are not invited by CDP. Voluntary participants to CDP from Turkey include sector leading firms such as YÜNSA, BRISA and AKÇANSA. The new Project of CDP Turkey, which is carried out with the support of British Government aims to expand the scope of CDP in Turkey via increasing the voluntary participation of firms in CO2 intense sectors.
CDP Turkey 2011 Report Launch
Find the report here.
Keynote by Fatih Birol - Find the presentation here. (Chief Economist in International Energy Agency and Honorary Advisor of Istanbul International Center for Energy and Climate)
Panel "Climate Change and Emerging Markets"
- Sue Howells - CDP, Head of Global Operations
- Alexis Krajeski - F&C, Associate Director, Governance & Sustainable Investment
- Giorgio Capurri – UniCredit, CSR Manager, Corporate Sustainability, Group identity and Communications
- Melsa Ararat – Sabancı University Faculty Member – CDP Turkey Director
CDP Global 500 Report 2011 was Published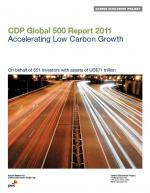 CDP Global 500 Report is the world's most comprehensive report on private sector about climate change, by means of investigating the carbon reducing activities of the world's largest companies. This year two out of three companies which were invited from Turkey were included in this report.
It is the first time for Garanti Bank to be listed in the Global 500 companies while Akbank, being the first company from Turkey to be included in Global 500 Report in 2010, again took part in the list this year.
According to PricewaterhouseCoopers' specific measurement methodology developed for CDP, Akbank and Garanti Bank received 72 C and 74 C, respectively. These results indicate that the successes of both of these companies are higher than the average. Moreover, the most positive outcome of this year's report is the fact that most of the companies which responded to the research have implemented their climate change activities into their business strategies. 48% of the companies had implemented their climate change operations into their business strategies in 2010, whereas this number increased to 68% in 2011. Another interesting point in the report is the increase of the companies which reduced their greenhouse gas emissions through emission reduction actions. This number increased from 19% to 45% since last year. Having the title "Accelerating Low Carbon Growth", this report consists of the analysis of the world's largest 396 companies' responses to CDP. It shows that the proportion of the responding companies increased from 65% in 2010 to 74% in 2011.
When the climate change performance is concerned, infrastructure sector is reported to be performing the best; however energy sector is the least committed to this issue. The 30 new companies which are committed for reducing their greenhouse gas emissions according to the "Carbon Action" that started in 2011 by CDP are also included to the Global 500 Report.
Publicity of the CDP Global 500 Report 2011 was conducted through a Global Forum with a sustainable and profitable growth theme. The Executive Secretary of the United Nations Framework Convention on Climate Change (UNFCCC) Christiana Figueres, the CEO of International Emissions Trading Association (IETA) Henry Derwent and FTSE Group CEO Mark Makepeace attended this forum where about 20 specialists from all around the world came together for discussing climate change issues.
Please find the CDP Global 500 Report 2011 in the following link.